Whodunnit At The Players: A 30th Anniversary Tribute To "Clue The Movie" and Jonathan Lynn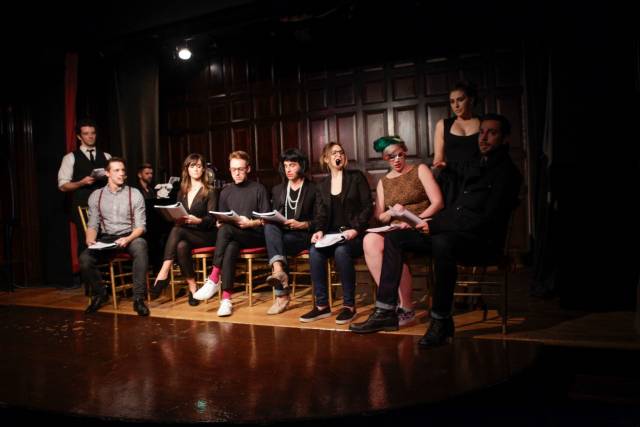 Multiple murders at the Players Club! At first glance, a headline that could prove to be the final nail in the coffin for a historic social club dogged in recent years by financial controversy. But not so! This macabre message is, in actuality, a banner of reinvention and promising new traditions, as players and their guests gathered in the great hall on a festive winter evening to celebrate Jonathan Lynn, a seriously talented director, for a not so serious accomplishment: the 30th Anniversary of Clue, the Movie.
In a properly campy tribute to the 1985 film that has aged over the years into a beloved cult classic, the Players assembled a talented young cast of stage and screen actors to participate in a madcap live performance cum staged reading of the script. I asked Michael Barra, a member of the Players and producer of the event, how such a wild evening came to be. "[Lynn's] films all have one thing in common, even beyond the unparalleled comedy, and that is that they each have such memorable performances. Being an club founded by 19th century actors, this resonates with us, and what better way to honor those performances by recreating them live by today's finest young actors..." And why the Players Club? "We have a stage in the clubhouse, so that helps. We also have a Library, Dining Room, Hall, and Kitchen, all we are missing is the Conservatory."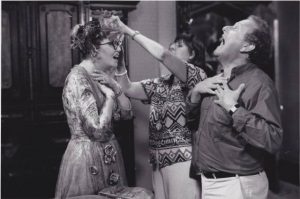 Indeed, it was an appropriately creaky, august setting for an evening of hijinks and liberally poured glasses of wine. And though ghosts of Players past, with names ringing of theatrical dynasties, stared down at us from gilded portraits hanging prominently around the dining room, the night was marked by an utter lack of pretension. Led by a dozen or so winners of a contest that was suggested by Lynn himself, who gained entrance by recording clips of themselves lip syncing to their favorite lines (otherwise, entry was exclusively limited to Players and their guests), we were encouraged to unleash our id and shout along when we deemed fit. I learned some callbacks that would put Rocky Horror fans to shame.
It seems fitting that Lynn insisted upon having super-fans in attendance. After all, the film flopped in a big way when it first came out in theaters. "It came out and overnight I went from being a hot director to a freezing one," Lynn told me in an email exchange. "It seemed to be that the film would follow me around like a lame puppy, and I'd never make another." The evening's program served as a cheeky reminder, with tidbits from scathing reviews by Roger Ebert, "Fun, I must say, is in short supply in Clue," and Janet Maslin of the New York Times, "There is so little genuine wit to be found in Clue."
But time was kind to Clue, the classic game turned sleeper sensation. "It started showing on TV in the afternoons," Lynn recalls. "Kids loved it. And as they grew up they discovered they still love it!" One of those kids was Michael Barra. "We all found it later on, on cable, in the video store, etc.," he posits, "and we each feel that we discovered it." The "we" Barra refers to may be more specific than the movie's legions of fans, and the cast's uncanny knack for delivering line after line -- Michael Urie as Tim Curry's Wadsworth, Brandon Uranowitz in drag as Madeline Kahn's Mrs. White, Amy Jo Jackson as Eileen Brennan's Mrs. Peacock, and Max Jenkins as Michael McKean's Mr. Green to name a few standouts -- wasn't quite so random. "The idea for doing the performance came completely from the co-Directors, Tim Drucker and Jason Michael Snow. They are both legit super-fans of the film, and they cast the show with other super-fans. All of the performers volunteer[ed] their time and talents to honor Jonathan, whose little movie was a major influence on each and every one of their lives."
A dashed off aside by the directors that the characters were assigned just before the show felt like an unnecessary gag -- more confusing than amusing, as the roles were so sharply and accurately fleshed out by the gutsy cast. In fact, as it turns out, this may not be merely a one-off tribute, as a spirited introduction by Barra let slip that Lynn is working on a fully fledged stage production. And Lynn seemed fairly tickled by this run-through, so you may expect one of the evening's faces to reprise their role on Broadway in due course.
The performance itself was anything a fan could hope for, and maybe even a bit more.The small stage, which meant frequent accidental run-ins between the cast members, offered a new translation of the film's frenzied humor, and even the cast couldn't help themselves from laughing now and again. And what the tribute lacked in production value, it made up for in sheer, hilarious lunacy and wit. Michael Urie led that charge, hamming it up to the audience with droll eye rolls and nods to the theatrical adaptation: "The police will be here in about..." He leafed through the script. "60 pages!"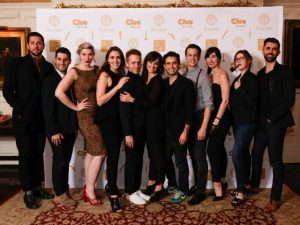 I've watched this movie sideways and upside down, but I still crave any new piece of behind the scenes gossip, so I asked Lynn if he would share a little-known tidbit. Well, fellow fans, like its namesake board game, it was best played with family.  "My son Edward (known to everyone as Teddy) was eleven when we shot the film," Lynn shared. "He was a great kid, wanting to help, and he rode around the Paramount lot on a bike all day, doing useful errands for the producer Debra Hill and others. When we finished the film, Debra gave him a credit as Production Assistant, because, she said, 'he was so much more helpful than any of the other PAs.' She was right. It was his first credit." Though Clue typecast a Hitchcock lover and aspiring director of suspense films as a comedic talent, when I felt the camaraderie of the evening, and how touched and thrilled cast and audience members alike were by this offbeat masterpiece, it seems that Lynn, who was awarded an honorary membership to the club at the night's close, ended up exactly where he was meant to.
To make a long story short (too late, you might cry), this endlessly entertaining evening was a celebration not only of one of the most quotable films of recent years, and the director who mixed madness and marvel with signature aplomb, but also of the Players Club, fresh faced and ready to reclaim their position in the spotlight of the New York social scene, a good, stiff drink in hand.