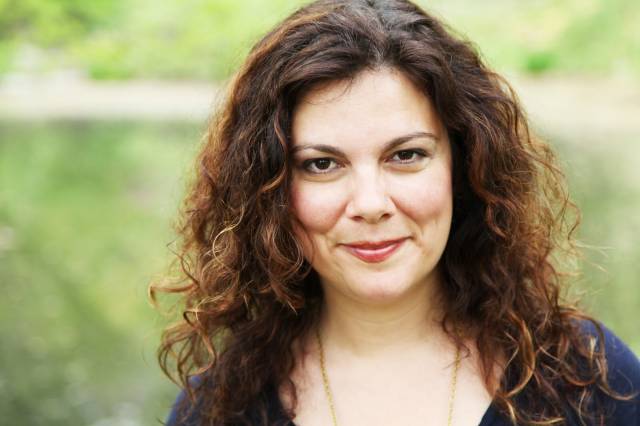 You've already found your way to StageBuddy (good for you!), so you know as well as I do that the theatre is a magical place. It's a place of exploration, fearlessness, honesty and boundary pushing in all ways imaginable. But it's not always a place for women. "I saw a play with three women in it just last week!" you might be shouting angrily at your computer screen. Unfortunately, in 2016, the gender disparity in theater isn't always overt. It can be insidious; it can be subtle. Think about behind the scenes roles, where women are all too often overshadowed by male counterparts in writing, tech, production, and direction.
Thankfully, that's where superwoman Michole Biancosino comes in. A long time fixture in the Washington, D.C. and New York theatre scenes as a director and producer, and more recently as the artistic director of Project Y Theatre Company, which she co-founded with Andrew W. Smith, she's now at the helm of a new endeavor, the Women in Theatre Festival. The Festival, which bridges the gap between the uptown and downtown scenes thanks to productions first this past June at Under St. Marks and Art/NY Studios and now in July at Theatre Row, features three weeks of new staged plays and readings by women playwrights, with a plethora of ladies stepping up to the plate as actors, directors, producers, and technical staff.    
Biancosino made time for me in her hectic schedule to talk about founding the WiT Fest, what to look forward to in its inaugural run, and how women can band together to push the theater community to parity (and beyond).
So, since this is the inaugural year of the Women In Theater Festival, can you just start out by telling me a bit about what inspired the festival and the path you took to make it a reality? Has is been a longtime in the making?
For the past five years or so, I would just get so discouraged any time I would see a new study out about the gender disparity in theater. For me theater is a place where, you know, it's better than the other parts of the world, like there's more women involved, more diversity, but then when you actually see the statistics it's just shocking. So basically I just felt like we needed to do something. And not just address the lack of women playwrights, but also the lack of roles available.
So last year I created a reading series called Parity Plays, and basically the only stipulation for that was that you had to have at least 50% or more women in the cast. We had so many submissions and so many amazing plays that we did extra readings. We had a whole range of playwrights -- two men and six women -- and people loved it, we had such high attendance, that I thought, people want this. People want to feel represented. They want to have big roles, meaty roles, you know? And they want to have a lot of them. So I started thinking, why don't we try to showcase more indie theater women in a festival, so it started just with that idea, that we wanted to support women writers and playwrights who are writing for women and give people the opportunity to showcase their work.
So that was the impetus, and from there, we had a woman in our reading series, EM Lewis and she wrote a play called the Gun Show that I thought was really interesting. We're doing the New York premiere of the that show, which has had productions in several major cities, and was nominated for a Jeff Award in Chicago. We have solo artists and playwrights that really represent a range of the community, from established playwrights - Melanie Marnich, for example - but then also the women that everybody knows in theater circles, but who aren't necessarily known otherwise. So get the chance to sort of introduce them to a larger audience.
You mention that you accepted submission for your Parity Plays series, but WiT was invite only. Can you talk a bit about your process for selecting the women to involve with this first year? 
Project Y Theater Company, which I cofounded and am artistic director of, has a wealth of playwrights we work with, and we run reading series as well, so a lot of people came out of that. And then I reached out to women who are kind of fixtures in the theater community. Then I tried to reach out to other artistic directors and have their companies showcase their work at the festival-- a lot of different women led companies. That was the crux of it.
The two headlining plays are both about gun violence - when you curated the festival, did you set out to hit on controversial, hot button issues?
When we started curating the festival, we focused on other women-led theatre companies first.  We wanted to offer space and support for them to show new work together.  This led to our collaborations with Elephant Run District, Younger Child Productions, PTP/NY, and others. The long-running show in the festival is the NY Premiere of The Gun Show by E.M. Lewis, a play about gun violence and the culture of guns, written from a first person perspective. We didn't go out looking of controversial plays, but when we looked at the collective group of women writers and companies represented, we realized that our community is interested in our modern world and all its messy problems. Many of the plays are political. Some of them you can tell just from the titles: Steubenville, by Eleanor Bishop, Baby Mama, by Mariah MacCarthy (#babymamagay), and "Nice Tits!" by Amy Marcs, to name a few. Women artists are often socially engaged artists, and because we have so many different artists represented in this festival, you really see that.
You also have a balance between two hubs of the New York theater scene - downtown and then quite literally off-Broadway. Do you have a history with the theaters you're working with for the festival?
We have worked with both Under St. Marks (downtown) and TheatreRow (uptown) in the past and we love working in both spaces.  Project Y has always been a small Off Off company that straddles both the uptown and downtown scenes. We have produced regularly in 59E59 Theaters while at the same time doing PopUp shows in clubs and small theatres like Nuyorican Poets Cafe. We just look at the given project, see where it would live best, and then try to find the space appropriate to it. In this way, we have been a company that writers, designers, and actors alike want to work with because we provide a high profile (in terms of the downtown scene) opportunity to showcase your work to an uptown audience.
You play many different roles in the theater community - even in this festival, you are a founder, yet involved in a creative aspect as a director. How do you balance the different aspects of your involvement? 
Well, a lot of women artists find that we have to make our own place. So you end up -- that's why it's a real community, because we know that we have to support each others work and we have to do what it takes to get that work up together. Or it just won't get done. So in a way, for me, it's just a necessity. I don't think there is any one way to make something in theatre if you're trying to do something new. I kept looking for women theatre festivals to submit work to and there were so few - or none at all - around the US. I wanted to do something that I thought was important, and I knew it was important because it was the very thing I was searching for myself - a place to highlight and showcase the work of women theatre artists and theatre leaders who are working outside of the commercial arena. I obviously am juggling a lot, but so is anyone working in indie theatre in any capacity because you can't live of it. That means we are all working other jobs, doing other theatre projects, cobbling together our time to still follow the artistic impulses we have. Balance to me is a goal.

How do you hope to see the festival grow in future years?
As I said, we, Project Y, straddle the downtown/uptown scene, bringing the work of downtown writers uptown, and vice versa, so we hope that we can continue to do that. For next year's festival we hope to have commissions, you know, actually reaching out to playwrights to write something specifically for the festival, and we also hope to have more people involved. Right now it's completely curated and it's a fully supported festival-- artists don't pay anything to be a part of this festival, at all, which is unusual, but that's really important to us. So the next step is being able to offer even more resources to our participants.
I just want to say one more thing too-- I think a lot of women's theater festivals struggle to incorporate both emerging voices and established voices, those who have written for theatre before. There's often just not a place for it. So we're trying to create that place.
What advice would you give to women artists and those involved in creative fields in how to better support each other? 
Just that. Support each other. See each other's work. Follow each other's successes, small and large. Create space for others' work. Work collaboratively. Pull your resources of friends and talent. We are never in competition with each other. We need to push together to make others make space for us in their seasons and in their spaces. Promote each other.
For more information on Project Y and the Women in Theatre Festival, and to see the full schedule of plays for July, head to the website and connect on Facebook.