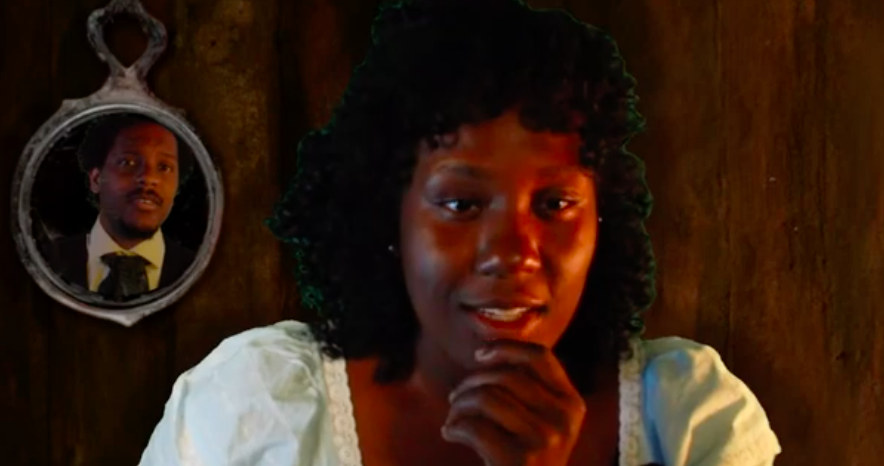 Anything can happen at sea. Especially on a ship helmed by a mentally unstable alcoholic whose estranged son has brought an outspoken, free-thinking young woman on board. Oh, and did I mention they're en route to Liberia to set up a Black penal colony?
That's the setting for Christina Anderson's claustrophobic, thought-provoking thriller of a drama. Directed by Lucie Tiberghien and mounted by Molière in the Park, pen/man/ship stars Kevin Mambo, Jared McNeill, Crystal Lucas-Perry, and Postell Pringle--a virtuoso cast playing an incendiary group of characters. Mambo shows the most range in a character that's truly all over the map, moving from serene piety to raging frenzy as easily and naturally as switching a light on or off.
But if Charles (Mambo's character) is a more demanding role, that doesn't mean the other performances aren't noteworthy. Lucas-Perry gives a compelling, complex performance as Ruby, the only female passenger on the voyage. Invited aboard by her friend Jacob, Charles' son, Ruby hopes to start a new life in Liberia that will be radically different from her past in the American South. As played by Lucas-Perry, Ruby is a bold young woman with a powerful personality. She may seem simply charming at first glance, but her past experiences have given her a hard edge. And that edge comes up especially hard against Charles' ego, reinforced by his desperate need to believe in the world order he's constructed--and fit himself neatly into--inside his head.
What unfolds is an intensely personal drama between three people stuck on a ship in the middle of the Atlantic. Even there, surrounded by miles of ocean with no white man in sight, the Black characters cannot escape American racism. Much like the situation in Ma Rainey's Black Bottom, the toxicity of white America sets Black people against one other, with fatal consequences.
As a production, pen/man/ship is a visual testament to what art can achieve even in a virtual medium. Storybookish animations help set the scene and smooth transitions, and whatever tech/editing software is being used here (we have the Technology Consulting Group of Liminal Entertainment Technologies, LLC to thank) deserves a round of applause all to itself. While it's still obvious that actors are not in the same room with each other, there are times when we almost forget it, and the illusion of being on a ship is very well pulled off. I especially enjoyed the effect that had the actors all bowing together at the end of the show, as if they were actually standing in line on a stage. Finally, the close frames and focus on one character at a time lend themselves well to the claustrophobia of the play, especially when Charles exclaims that he's got to get off this ship, only to be reminded that there's nowhere to go.
Adeptly written, artfully staged, and masterfully performed, pen/man/ship is an important and powerful production that raises equally important and powerful questions. Can there be darkness in the light? Is hope a motivator or a means of oppression? And how far are we willing to go for the sake of justice?