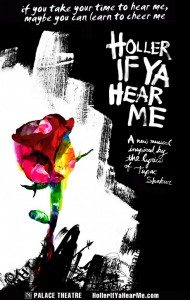 Though it's exceedingly difficult, there are many ways for a musician to get his songs on Broadway. One way is to go to workshops, collaborate with theater veterans and have a half-dozen musicals ready to go at any given time. Another is to become a phenomenally successful rap star, get shot and killed in a drive-by when you're 25, and thus become an automatic legend. That's the route taken by Tupac Shakur, a rapper who rose to fame in the early 1990s thanks to such albums as "2Pacalypse Now" and "Strictly 4 My N.I.G.G.A.Z."
Seventy-five million album sales later, Shakur's music now reaches a midtown audience thanks to his mother, Afeni Shakur, who is lead producer on the new musical, "Holler if Ya Hear Me". With a book by Todd Kreidler and direction by Kenny Leon (both names long connected with August Wilson's plays), "Holler" opened Thursday, June 19, at Broadway's Palace Theater. Wayne Cilento choreographs the tuner, which started previews May 26 and tells the story of two friends growing up in an industrial Midwestern city.
Saul Williams stars in the show opposite Tonya Pinkins, a Tony winner for "Jelly's Last Jam" and Tony nominee for "Caroline, or Change" and "Play On!", and "Radio Golf" Tony nominee John Earl Jelks playing a preacher. Shakur songs in "Holler" include "Dear Mama" and "Keep Ya Head Up".
Rap music is certainly no fixture on Broadway, so did critics find the first musical of the 2014-15 season a blast of fresh, angry air, or were they hoping "Holler" would shut up?
AM New York critic Matt Windman apparently heard way too much of "Holler". In his one-star review, Windman gripes, "It's extremely disheartening to report that `Holler If Ya Hear Me' is a total mess and misfire… In other words, it's a really poor imitation of `West Side Story… More often than not, the dense lyrics cannot be understood, thus defeating the purpose of a show meant to celebrate Shakur's voice. Audience members, whether they are theatergoers who are completely unfamiliar with rap or fans of Shakur attending their first Broadway show, deserve better than this."
Though in awe of Shakur's musical output, NBC New York's Robert Kahn agrees with Windman that the show's "fictional story [is] so tired, and so often told, that you can't help but walk away feeling that an opportunity has been missed [because the show] deserves a more intimate space and more time to work out its kinks." However, unlike Windman, Kahn finds elements to praise strongly: "there are ideas presented in `Holler' that…burst from the stage, such as when Nunn (Jahi Kearse, in a fine performance)… describes what happens after you actually kill someone, comparing its effects to the PTSD suffered by soldiers returning from war."
Less convinced is the Hollywood Reporter's David Rooney, who calls the musical "deflating," "toothless" and "likely to be forgotten fast." "The music is often powerful and the performers uniformly capable," Rooney writes, "but the songs are a poor fit for narrative presentation, at least in writer Todd Kreidler's cut-and-paste of cliched situations and stock characters." It doesn't help that "the actors, no matter how talented, have nothing but hackneyed outlines to play."
Unlike other critics, the Associated Press' Mark Kennedy doesn't mind that Kreidler & Co. wrote a new story rather than telling Shakur's biography. But he wonders why use a Broadway theater at all when so many seats have been taken out to make it feel more intimate. And he also opines that "the urgent, free verse style of Shakur's very personal songs [get] diffused, lightened and flattened" by their arrangements here. At two-and-a-half hours, the musical is repetitive and bloated, but Kennedy does find a few scenes powerful, especially the angry act one closer, which he calls "as close to hearing the shaking fury of Shakur himself."
Though he slights the book of "Holler" for "basically kvetching about the problems of being black," TotalTheater.com's Richmond Shepard lauds the "vivid" cast and calls them an "innovative hoppin', boppin', singin'. dancin' energetic bunch…that kept me jiggling and foot-tapping in my seat."
Variety's Marilyn Stasio frames her review around the question of whether audiences will come to see "Holler", since traditional Broadwayites might balk at the material, and rap fans might balk at the ticket prices and hoity-toity location. That said, Stasio calls the music "terrific: percussive, propulsive, insistently danceable and surprisingly tuneful. But the performers are so overly miked that the lyrics are almost unintelligible… It's maddening to have to keep scanning everyone in this huge, hard-working cast…to see whose lips are moving." Stasio appreciates the show's "fierce sensibility" but finds "all that bristly rage" feeling like "overkill for a surly fictional character whose complaints are vague and unspecific."
Instead of theater critic Linda Winer, Newsday sent its music critic, Glenn Gamboa, to "Holler", but his findings echoed those of more traditional theater reviewers. He loves lead Saul Williams, whose "fire and ferocity…would put most of today's rappers to shame." Gamboa also opines that the celebratory scenes "have flashes of brilliance," though the story "feels like it's jumping through hoops to move from one stellar performance…to the next." "In the end," Gamboa closes, "`Holler' leaves you feeling more exhausted than inspired."
Kinder to the show is New York Post critic Elisabeth Vincentelli, who gives "Holler" three stars and appreciates its "skillful, old-school showbiz" smarts wedded to its "gangsta anger" and profanity. She allows the show has too many cliches, but the production nevertheless proves that "a rap musical can work."
Daily News critic Joe Dziemianowicz has similar feelings, noting that "the production is vibrant, raw and rousing, but it self-sabotages with predictability and unintelligibility." Like Marilyn Stasio, Dziemianowicz is frustrated by the difficulty hearing and understanding Shakur's lyrics, especially since "the music consistently grooves."