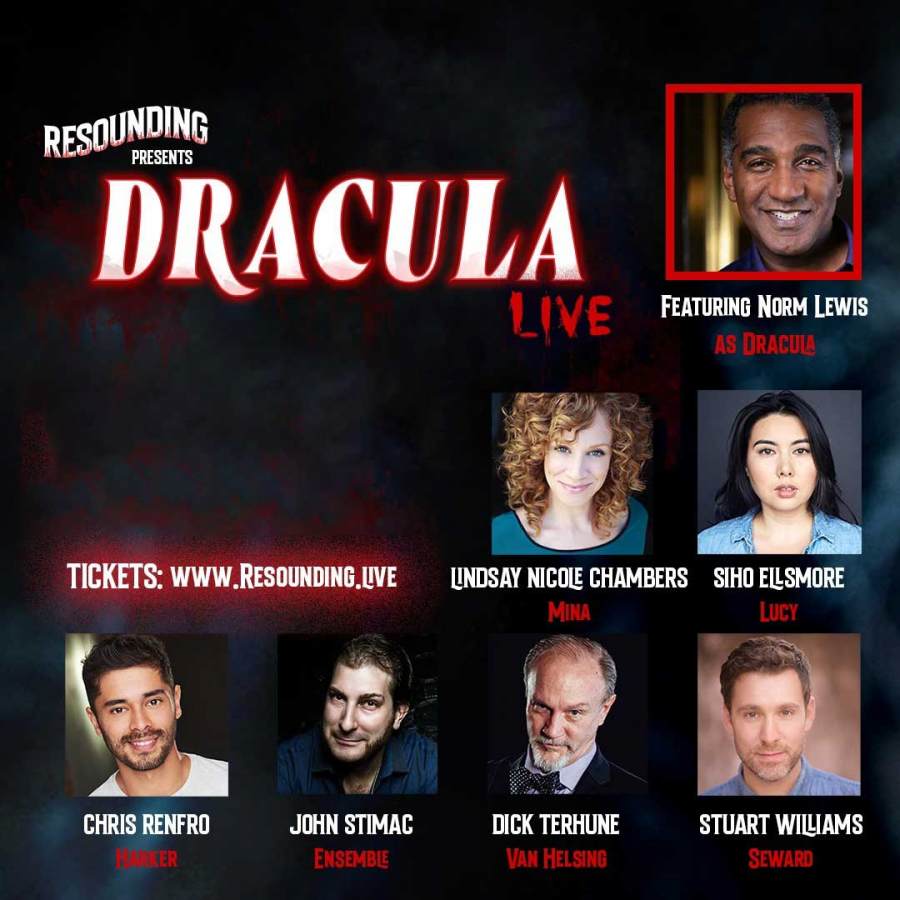 It was a different kind of Halloween this year-no New York's Village Halloween Parade, no house parties, not even a lot of trick or-treaters. Many houses posted signs saying "no candy, see you next year" and put yellow barrier tape around their front doors.
So why not a 'different' Halloween theatrical experience?
"Dracula," by Resounding, a live immersive audio entertainment company, was presented in a radio show format. It was based on Orson Wells' 1938 radio show adaptation of Dracula. Using incredible modern technology, a fully immersive, binaural, "3-D" sound, Bram Stoker's "Dracula" came alive.
I must admit it felt strange sitting with my headphones on in front of my computer but facing a basically blank screen. I listened to the wolves howling, the doors creaking, the ship sailing, and the bloodcurdling screams. Interestingly, I found it easier to concentrate on listening than to merely watch frames on Zoom. To focus, I needed to pay attention and not be distracted by other things.
Resounding tries to simulate a theater experience. Having signed in early, I heard noises of people milling around in the lobby, as if I were waiting for entry into the theater. To create a mood, Resounding sent out a playlist of music with Halloween appropriate titles. They also suggested drinks, alcoholic and non-alcoholic, for listeners to make at home.
"Dracula" has been pared down and is presented as a series of events narrated by the characters from their diaries, news articles and personal accounts. Norm Lewis stars as Dracula along with Lindsay Nicole Chambers as Mina Murray, Siho Ellsmore as Lucy Westenra, Chris Renfro as Jonathan Harker, Dick Terhune as Prof, Van Helsing, and Stuart Williams as Dr. Seward. All the actors, except for Lewis, play multiple roles, often assuming accents as the audience is transported to Transylvania and Dracula's undead world.
We can't see the frightening events, but we hear and imagine them, as families did years ago as they huddled around the radio and listened to shows together. The show includes sounds of everything we've come to expect from "Dracula," including wolves, howls, bats, screams, creaky floors, and slamming doors. The script is well-crafted with great sound effects intended to invoke horror. The dialogue included details about the howling wolves in the background as 'the children of the night."
We have become a generation of watchers and today's children are learning and watching everything online. A live audio performance, "Dracula" is a test in listening, a lost skill. I was struck by the beautifully enunciated diction of the actors who had to depend solely on their lines rather than their motions. Close your eyes and envision Dracula, "No blood in his face, hair on his palms, no shadow and no reflection in the mirror… A tall, thin, ghastly pale man."
Dracula is a live, immersive play and one of the best moments were the 'bows' at the end when each actor introduced his characters. Each one performed live from his or her home from Astoria, Brooklyn, The Nomad and California, and even from a closet and under a blanket.
One positive that has come out of the pandemic has been people's creativity and Resounding Creative Director Steve Wargo, with technical director David Horowitz (Director of Technical Design) have combined a classic story with astounding technological effects to provide a truly unique theatrical experience.
Originally, I had misgivings about "Dracula," but the show was something special. Resounding has two other shows scheduled. I plan to be there -with my headphones on.
www.Resounding.live
Robert Louis Stevenson's Treasure Island - November 27-28 at 8PM.
The Fantastical Tale of the Nutcracker and the Mouse King (December 18-19 cat 8PM.