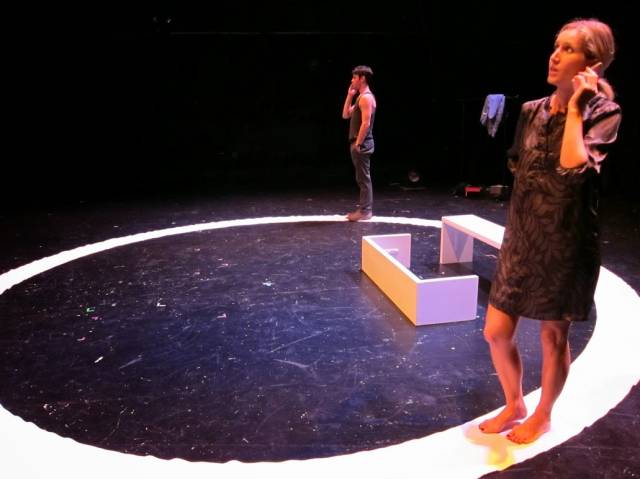 Leonore Confino's show for the Dream Up Festival seems like a reaction to the seldom-asked question, "What would a rom-com be like if instead of being a coherent development of a relationship, it was just couples arguing?"
In The Ring is made up of dozens of little scenes, sometimes taking place in an apartment, bar or the Garden of Eden but always inside of a white circle, a boxing ring which is the stage.
We start with the first couple, Adam (Kyle Tuck) and Eve (Nathalie Bryant). Adam is excited about little things like trees and the sunset. Eve is bored, aggressive and weirdly stressed out for someone whose whole life is sitting around a garden. She comes to the conclusion that humanity is doomed since their children will have to procreate with each other and be degenerates. Then we are introduced to the modern-day off-spring of Adam and Eve, Jo and Jo.  In loosely connected scenes, girl Jo and boy Jo fight through awkward one-night stands, slut-shame girl Jo for not wanting a family, nit-pick problems in a marriage until the other storms off, cheat, and keep secrets from each other. Boy Jo is consistently condescending and childish while girl Jo is always frantic. They blame each other for unresolved dreams and squandered youth. They are clearly not meant to be in a relationship. With anyone.
Nathalie Bryant and Kyle Tuck play a mean couple really well. If you are looking for a show that will take you away from any relationship problems you might have, keep looking. If you are looking to for relationship advice, this show is not it. If you like watching couple verbally spar and insult each other in their underwear for an hour and a half, this show is perfect for you.
In the Ring is playing at the Theatre For The New City through September 6 as part of the Dream Up Festival. For more info, click here.