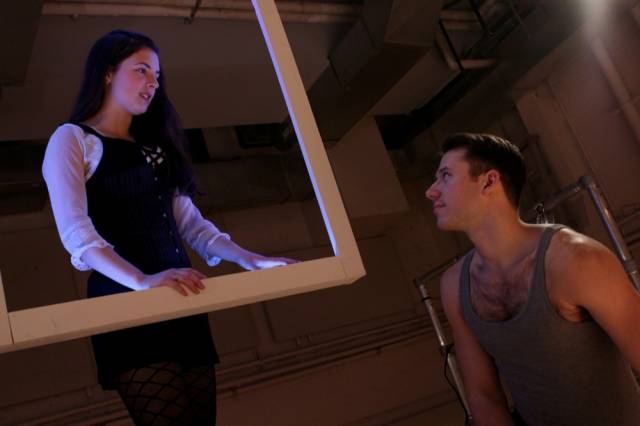 With so many different variations of Shakespeare's Romeo and Juliet out there today, one can often forget how powerful and evocative the original script is, on it's own, delivered expertly by a small cast of talented actors.  Shakespeare in the Square, a company committed to recreating Elizabethan stage practices, is bringing the Bard's tale of star-crossed lovers Off-Broadway. Directed by Dan Hasse and produced by Rose Bochner, it is one version of the unrest in Verona that is not to be missed.
Shakespeare in the Square eschews elaborate sets, props and costumes in favor of minimalist scenery, even indoors. (The company originated as a group at NYU that performed in Washington Square Park.)  Just a plain stage and scaffold at the Gym at Judson suffice as familiar scenes: the costume ball, the garden, the friar's humble home. Small props differentiate between the five actors playing all 23 parts, a corset transforming Romeo into Lady Capulet, the lowering of a hood turning Friar Lawrence into Juliet's Nurse. It's mesmerizing to watch the actors morph between characters (sometimes within the same scene), and the delivery of the dialogue alone is enough to bring the story to life, often rapid-fire, so you need a sharp ear to keep pace.  The show is also accompanied by live music - with additional music during intermission.
SITS's The Tragedy of Romeo and Juliet is filled with talented actors who are no strangers to the works of Shakespeare. Elise Kibler (who will make her Broadway debut in The Heidi Chronicles next month) captures the petulance and wonder of the timeless teenager that is Juliet. Her infatuation and heartbreak are gut-wrenching to watch, making you wish you could somehow change the ending of the tale, even if you've seen the story a hundred times before. Taylor Myers' performance as Romeo is lighthearted and endearing without being cloying. Myers has wonderful chemistry between each of his scene partners, whether he's playing lovesick Romeo or strict Lady Capulet.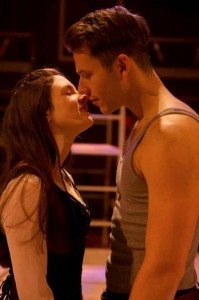 Jack De Sanz steals all the laughs as Juliet's nurse. His raw exuberance as the mother hen is delightful as is his somber portrayal of the Friar. Chris Dooly masterfully brings the dangerous element to the story as a commanding Paris, Tybalt and Prince. Finally, Constantine Malahias skillfully plays the lovable rapscallion Mercutio but is particularly spectacular as the sneering, recalcitrant Lord Capulet.
The interaction with the audience is exciting. Audience members are invited to sit on stools close to the action or join in the festivities of the costume ball onstage. This brings a feel of the old Globe Theater in London to a church auditorium on Thompson Street.  The directing by Dan Hasse is so fresh and fun that both die-hard Shakespeare fans as well as newcomers will find something to love, whether it's the love story, stage combat or sharp humor.