From the Park to Off-Broadway: An Interview with Shakespeare in the Square's Dan Hasse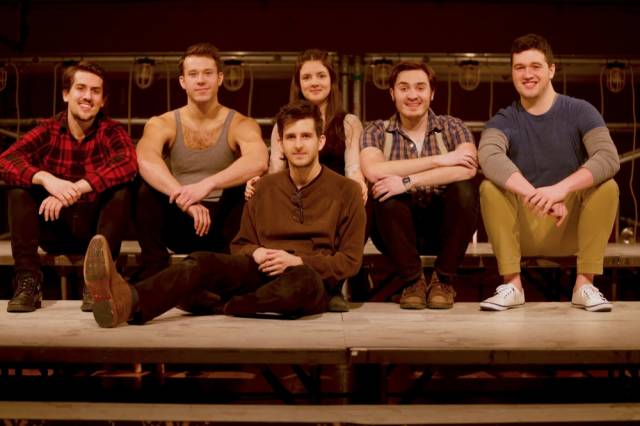 Dan Hasse is no stranger to Shakespeare. As one of the founders of Shakespeare in the Square, which for five seasons has performed for free in Washington Square Park, he has tackled some of the Bard's most famous works, including Twelfth Night, The Taming of the Shrew and Othello. Now, he and the company make their Off-Broadway debut with the classic tale of teen romance, The Tragedy of Romeo and Juliet, at the Gym at Judson until February 8. We sat down with Hasse to discuss the risks and rewards of performing outside, Elizabethan stage practices, and gender-blind casting.
Firstly, why go back to the basics with your shows? Your productions have little scenery or costumes, what does that add to your shows?
Well, it's much more cost effective to do it as the Elizabethans would have done. As a company we've always had less rehearsal time than we'd like so we developed this system that is modeled after what Shakespeare's company did when they were putting on a show a week and then running them in rep. So it's partly out of necessity, but I also think that it puts the importance and the focus on the language, which is often lost when you have these massive set transitions and musical interludes between scenes and it's really important to us that when Shakespeare says "two hour traffic of our stage," we get as close to that as we can.
What drew you to start Shakespeare in the Square in the first place?
I started it with Rose Bochner, who's producing Romeo and Juliet. We started it when we got to NYU because we were looking for a Shakespeare company for non-acting majors and there wasn't one. We put out a casting call for Julius Caesar and people showed up. So we acted in that and eventually realized that NYU had far better actors to offer than us so we took a directing and producing role instead.
What would you say is the most difficult thing about directing a live outdoor performance?
Well, we're performing for free so if the audience doesn't like it, they can just leave. You know sometimes you go see a Broadway show, you might be tempted to leave during intermission but if you paid 120 bucks for your seat, you're gonna stick it out. People in the park are also far more honest critics about what they think of the show and because you're performing in broad daylight, you can tell if they're paying attention or if they really understand what you're saying. But on the flip side, there is something magical about seeing someone stop in the middle of the street to cross the park and be drawn into a show and actually staying for the duration of the show just because what was happening was appealing to them.
Has anything surprised you while doing the shows, or anything that you weren't expecting before you started the company?
Honestly, I don't think we were expecting for it to go so well. When we started we were just doing it for fun and people responded really well to the point that we thought we would keep doing it until after we graduated due to the huge demand but we actually handed off the student company to a couple of freshmen. We had started when we were that age, we thought we would give it back to freshmen so they could have the whole four years to fully develop it. We then created a professional company as an umbrella for them and that's who is producing Shakespeare in the Square's Romeo and Juliet. It's also been great performing outside, you get different kinds of spectators. We've had a couple late night rehearsals where people would drunkenly stumble through the park and see us. Sometimes it would actually be that they would yell at us belligerently through the first act and be attentively listening by the fifth act and be promising to invite their families to the next show. Being outdoors really put us through the ringer and taught us what works and what doesn't.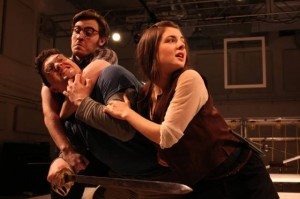 So Shakespeare only cast men in his shows but you've decided to let women in. You also have both genders playing all sorts of roles - tell me about what casting is like. 
Well we cast Elise [Kibler, who plays Juliet] because she is just absurdly talented. But we do gender-blind casting. In past shows, we've had women play men and men play women. We do, in the spirit of Shakespeare's gender-bending, we try to take it to the extreme which is if you're good for the part, it doesn't matter how long your hair is, just play your part. We don't change the gender of the character but we will have gender reversing when we can. It's really interesting to the see the role of the nurse played by a man because there are certain jokes that appear when it's a man saying it. When Jack De Sanz, who's playing the nurse, drops into a lower register it almost always gets a laugh and I imagine Shakespeare was kind of writing for that in some ways. But in other ways, when I imagine a 14 year old boy playing Juliet, I cringe - I think it really takes an actress like Elise to bring that part to life.
Do you get a lot of kids at your shows?
Yeah - actually last night at one of our previews we had a six year old and an eight year old in the audience. One of them was seated onstage so she was brought onto the stage during the Capulet ball and it was funny to see an eight year old on stage and then consider that Juliet is supposed to be thirteen and not that much older than this little girl onstage. But both children responded so well. It's hard to see how much of the language they're actually getting but they truly understand the relationships.
Which has been your favorite Shakespearean play to direct so far?
This one has been a pretty special experience, but in terms of our outdoor shows, we did a production of The Taming of the Shrew and it was something else. I mean, there was a lot of roughhousing, there was a lot of great audience interaction. At one point there was a slightly undercooked chicken that was thrown into the audience - it was something else. I really hope we get to do that indoors one day.