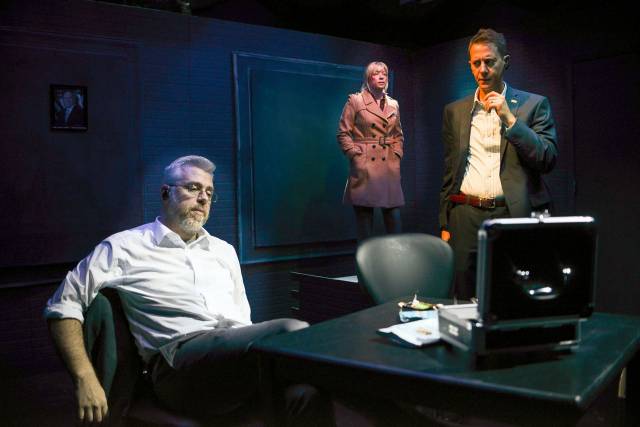 Asymmetric, a new play by frequent collaborators writer Mac Rogers and director Jordana Williams now performing at 59E59, is an incredibly intriguing spy thriller that will keep you guessing about each character's loyalty and motive until the very last second.
The story is centered around Josh Ruskin (Sean Williams), a wrung-out alcoholic and retired CIA agent; his ex-wife and partner Sunny (Kate Middleton), accused of being a mole within the CIA; and their two former colleagues, the chipper but resilient leader Zach (Seth Shelden) and the sadistic, venomous Ford (Rob Maitner). This cast of relatable and complex characters must trudge through the minefield of grey-area known as political espionage, while at the same time keeping their hearts as protected as their heads. The play calls into question the slim differences between idealism and realism, patriotism and terrorism, love and hate.
Asymmetric is presented by Ground UP Productions in association with Gideon Productions. The former, in particular, prides itself on compelling character-driven stories and Asymmetric is no exception. The majority of the play takes place in the small windowless holding rooms in the CIA's secret wing known only as 'The Fifth Floor'. Even with barely any scenery aside from framed pictures of Barack Obama and CIA director John Brennan, and a couple of chairs, the story is engrossing. In the small black box theater, the audience feels like they are right there in the tiny room with Sunny and Josh.
Williams gives a profound performance, at times pathetic, yet still hopeful; it's especially wonderful when his formidable former agent self glimmers through his hardshell as the play progresses. Middleton perfectly delivers Sunny's dark humor, her sarcasm the perfect flip side to her inner vulnerability and heartbreak. Shelden is great as the CIA agent proving his leadership abilities to both himself and his former boss. Maitner's obnoxiously flippant and dangerous attitude towards both the rogue agent and the operation bring so much tension and unease to the stage.
For anyone who loves Jason Bourne or The Blacklist, this play will have you wishing for a second episode, a prequel or at the very least something more of these characters.
---
Performances of Asymmetric, written by Mac Rogers and directed by Jordana Williams, continue through December 6 at 59E59. The cast features Rob Maitner, Kate Middleton, Seth Shelden, and Sean Williams. The design team includes Travis McHale (set and lighting), Amanda Jenks (costumes), and Jeanne Travis (sound). The production stage manager is Devan Hibbard. For more information and tickets visit https://www.59e59.org