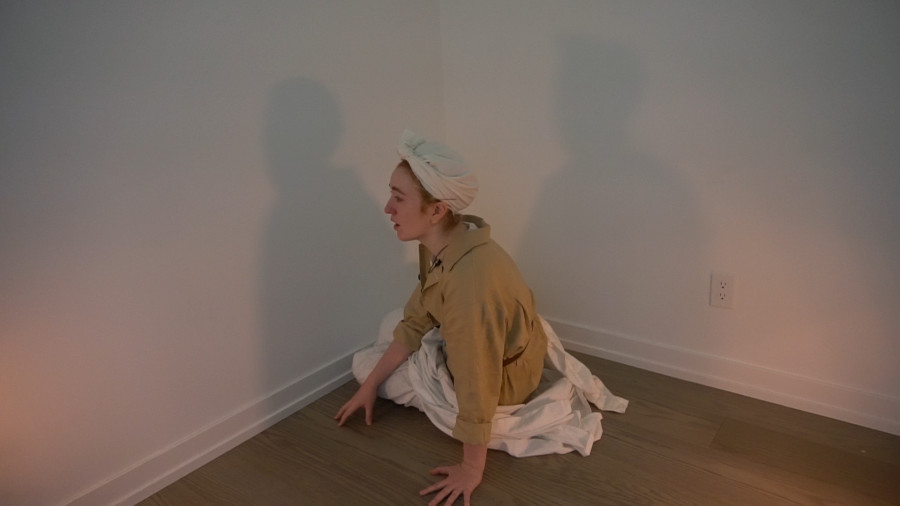 Did Joan of Arc know she was going to die? If she had known, would she still have done what she did?
That's the question Katherine Teed-Arthur asks in her show Joan/Jehanne. Directed by Max Cameron Fearon, Cara Rebecca, and Lee Stone, the filmed production is part of this year's virtual East to Edinburgh lineup, hosted by 59E59 Theaters. As Joan sits in prison, reflecting on her trial and wondering what the outcome will be, she dreams of her mother and argues with the saints telling her what to do. Ultimately, she faces a difficult choice: deny her voices and gain freedom, or give up everything and become a hero.
Katherine Teed-Arthur is an approachable Joan of Arc. Dressed in a brown jumpsuit with her hair tied up in a white headscarf, she paces the tiny room in which she's imprisoned for the entirety of the show, and manages to keep things interesting for the viewers despite her narrow confines. While her Joan is confident and brave, she's not George Bernard Shaw's self-assured, almost brazen heroine. Instead, Teed-Arthur gives us a questioning, deeply human Joan. She's fed up with her examiners and complains to her voices about the infuriating treatment she's receiving. Her judges keep asking her the same questions over and over again, and no matter how she answers, it's always wrong.
Then there's the matter of God, whom she thought had promised to protect her. She's done everything right and now it seems God has abandoned her.
That's not to say there's nothing heroic about this Joan. On the contrary. It's just that she comes across as more of a human hero, and her doubts are cast in sharp relief with her faith.
In short, while it's not perfect (Joan's voices sometimes come across as a little too scripted), and may lack the grandeur and emotional depth of other Joan of Arc adaptations, Joan/Jehanne is enjoyable and thought-provoking. Joan is likable and, what's more, understandable; her voices demanding yet well-meaning, even if they don't fully grasp her situation. The play doesn't cast doubt on Joan's calling or the sincerity of her visions, nor does it emphasize her martyrdom or the scope of what she accomplished. It simply seeks to add a human element to the story: to paint in approachable, psychologically real terms the 19-year-old French girl who led an army. Before she was Joan, the play reminds us, she was Jehanne. And if she hadn't led France to victory, she probably would have led a happy, if quiet, life.