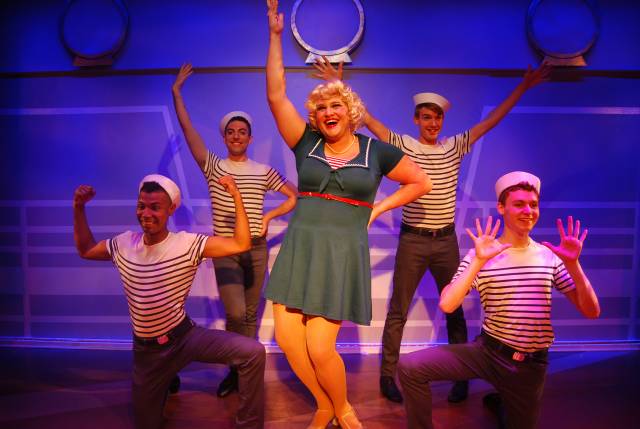 Fabulous! a new musical with book and lyrics by Dan Derby and music by Michael Rheault, advertises itself as "the queen of new musical comedies!" and you have to give it points for its optimism and energy. Its execution however, leaves a bit to be desired. Combining elements from classic Broadway musicals and Hollywood films like Some Like It Hot, Anything Goes and almost anything starring Cary Grant, the plot centers on two female impersonators, the voluptuous Laura Lee Handle (played by Nick Morrett) who refers to himself as a "drag queen", and the coyer Jane Mann (Josh Kenney) who dreams of leaving behind his wigs and gowns to become a real actor.
Laura Lee and Jane inadvertently become the target of two gangsters (played by Bryan Seastrom and the hilarious Natalie DePuy) who are trying to recover a diamond necklace they failed to steal properly while in Paris. Before long, their persecution ends up in a luxury ship, where Laura Lee and Jane are set to take over as main performers, provoking the wrath of ship director of activities Sylvia Smothers (Jane Aquilina) who had seen this as the opportunity to finally show the world she had star material as well.
And so it goes, we keep meeting more and more characters as the plot advances little, all of this making for a show that's certainly filled with jokes and insanity, but lacks in profundity. Not that one would expect a comedy about singing drag queens to be Kafka-esque or anything, but we get so little time with each character, that their stories become inconsequential. Why should we care about them when the show only thinks of them as playthings? Director Rick Hamilton keeps the pace speedy, and almost every character in the large ensemble gets to sing a song. You can really tell that Fabulous! was trying hard to please everyone but in the process just like its characters it forgot to come up with an identity.