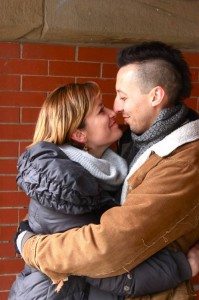 What's a heartbroken, and lonely artist to do when he can't get over the death of his beloved three years after she dies? Why, buy a Polaroid camera and revisit all their old familiar places trying to reconstruct their relationship, of course. Directed by Matt Gray, Bohemian Valentine follows Michael (Mateo Moreno) as he attempts to recover from the loss of his girlfriend Kate (Michaela Alyse Tomcho). The story plays with time, as it flip flops between Michael's flashbacks and a story that is being recreated before our eyes, with Kate's ghost following Michael around trying to lay their story bare. Michael is overwhelmed by how much he misses Kate; he has stopped painting, he can't sleep, and he keeps torturing himself by going to all the same places they used to frequent. His depression is deep and inconsolable.
What works best in Bohemian Valentine is the chemistry between Moreno and Tomcho, which is strong enough to allow the audience to really believe Michael's loss. It is a simple boy meets girl story between two very real and likeable people. There isn't anything extraordinary about them; they are just quirky enough to be interesting, but not so much that you are irritated by their idiosyncrasies. Of course, things are not perfect between them, and you find out midway that there is something threatening to tear them apart. What follows is a quick unraveling of what had seemed like a relationship on the rise. There are some harrowing scenes between the two leads, including a lyrical dance that beautifully demonstrates the dual nature of the relationship. There are also bits of sardonic humor, which help lighten the heaviness of the material.
Moreno, who is also the playwright, has skillfully constructed the classic love story and then added his own unique twist by deconstructing it. Sprinkled into the narrative are a few supporting characters whose contributions are small but meaningful. There is Michael's sister Sara (Kristen Adele), who has her own family to keep her occupied as she tries to be loving and supportive of her brother. There is the precocious little girl in the park, Jacey (Aimée Laurence), who gives Michael a teddy bear and who inspires him to carry out his photo project. W. Derek Jorden plays multiple characters, including one memorable scene as Kate's father in which he catches the couple in a hilariously compromising position. Tracy McDowell as Samantha, a depressed Upper East Side "trust fund baby," gives a moving, nuanced performance in her very limited time on stage. This scene made me want to see an entire play about "Sammie."
The photos Michael takes represent a life he no longer possesses, but the pictures are necessary for him to move on. They are the manifestation of a love that he must let go. Does he have the courage to let Kate go and move on? Or will he wallow in sadness, attempting to bring her back through memories? Whatever Michael does, we are with him all the way.
Performances of Bohemian Valentine continue through August 21 as part of the New York International Fringe Festival.  For more on FringeNYC shows click here.