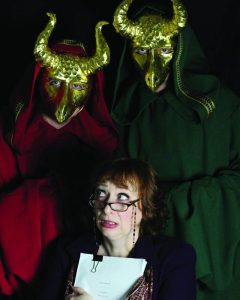 Writers of young adult paranormal romance series are currently enjoying their moment in the sun. There are movie deals, action figures and, oh yeah, religious cults based on their books. That is the case, at least, for Justine Drake (Lorinda Lisitza), author of the Dragon's Breath series. Enjoying its world premiere at the New York International Fringe Festival, Dragon's Breath is a funny, often acerbic dark comedy about what happens when one person treats a text meant to titillate teenagers as gospel.
Middle-aged Justine always enjoyed hearing stories about dragons from her mother growing up. That's why, after a failed marriage and a disappointing career in social services, she decides to craft a four-book series about a lonely teenage girl who meets a mysterious new boy at school who happens to be descendent from dragons. This hilarious send-up of the Twilight series involves a love triangle, an overarching big bad, and a mythology that spans millennia. It's not exactly the Great American Novel, but Justine never meant it to be. She just wants to share her stories and eventually become published in print (her series is ePublished).
To help Justine achieve her goal of being in print, her publisher Byron (Christopher Michael McLamb) arranges a series of readings that Justine reluctantly attends. Each public appearance yields encounters with the same two people: Rocco (playwright Michael C. O'Day), a smug literature snob whose main mission is to challenge the apparent inconsistencies in Justine's dragon mythology; and Laura (Hannah Sloat), a strange, young woman who is enamored with the Dragon's Breath series and whom Justine tries to mentor. Some of the most fun scenes are when Rocco deliver rants at Justine and her books, which he thinks are ridiculous, stupid and poorly researched. It's obvious that O'Day has crafted a character he believes is right at times, but also thinks is incredibly pretentious. Half of the play is a commentary on what good literature is. The playwright pokes fun at the literary value of series like the fictional Dragon's Breath and the actual Twilight, but makes sure to stress that Justine never pretends to be anything but a genre writer. She commits to the story because she believes in it and its appeal to a very specific demographic.
The other half of the play is a commentary on the dangers of reading texts too literally and interpreting them to suit your own agenda, as evidenced by the actions of superfan Laura. At first, Laura simply posts online videos of herself reading passages of the books and waxing philosophical about them. She often declares that we are living in "evil times" and confesses to Justine certain dark details of her life. At first, Justine is flattered at the compliment of having such a big fan, not to mention happy to receive the royalty checks. But as Laura's fanaticism deepens and she buys the book's rights to recruit followers of the "Draconian" faith, Justine grows from creeped out to outraged.
While Dragon's Breath might have you thinking about larger concepts of religion and literature, it will definitely have you chuckling, too. The supporting cast includes Edgar Eguia as the sarcastic bookstore worker who has to set up a reading for a book he cannot sell, Kendra Holloway as a caricature of a fantasy conference panel moderator, and Ellen Warner as a panel participant who is particularly turned on by Justine's characters.  Directed by Mikaela Kafka, Dragon's Breath flows seamlessly and realistically between scenes with Justine and Byron, the anchors to reality, and the scenes with Laura, representing someone who is slightly unhinged from reality. It's a credit to both director and actor that Laura never comes off as anything but sincere. She is not melodramatically crazed either. She truly believes in the teachings of the dragons and creates something for herself that she wants to share with others, just as Justine has. In a sense, the play contributes to the argument about intellectual property and what constitutes stealing versus recycling ideas. Justine does it two-fold with her mother's re-telling of older dragon stories. Most artists "borrow" ideas from other artists. Is Laura's creation of a new religion based on dragons any different?
Dragon's Breath is currently playing at Teatro LATEA through August 23 as part of the New York International Fringe Festival. For more on FringeNYC productions, click here.