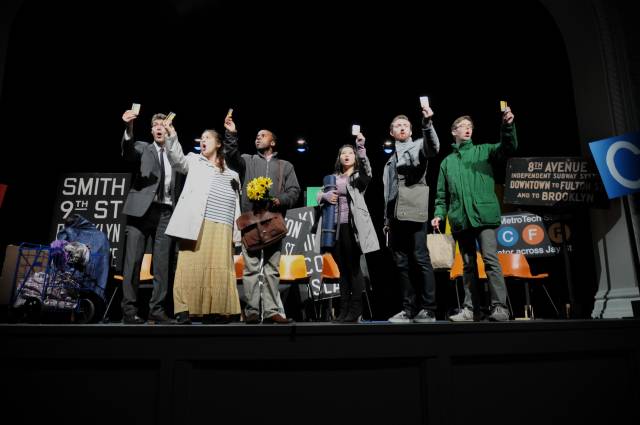 Held Momentarily brought the audience to its feet after a fantastic performance at the Sheen Center on Bleecker Street. The musical comedy written by Oliver Houser and directed by Hunter Bird is an homage to the commuters of New York City.  With a great script and talented cast, this performance was easily one of my Fringe favorites.
The musical comedy tells the tale of seven strangers who are stuck in a subway car on the C line when it inconveniently (and unsurprisingly) gets delayed on its way to 59th Street -- a situation so common in New York City that it's become a rite of passage. Each of them boards the train with their own agenda, trying to reach their destination amidst the usual throng of subway riders. A studious young man, an extremely pregnant woman, a boyfriend carrying an armful of flowers, a couple after their disastrous first date, a business man attached to his smartphone (played by Houser), and a napping homeless women are the faces of Held Momentarily, an apt illustration of the masses who rely on the MTA.
While our protagonists grumble over the train delay, musical numbers give us a better picture of who they are and what brought them to the board the train in the first place. Our would-be lovebirds, Mindy and Greg, were a match made by the gods of OKCupid and it was love at first sight -- for Greg at least. But when he fails to tick off every box on Mindy's laundry list of requirements for potential husbands (health insurance is a must, please!), she ends up running out of their date. To make matters worse, she's now stuck on the train with him!
Theirs is not the only evening gone to hell as Stan, taking flowers for his beau Steve, finds out that Steve is once again cheating on him. He finds sympathy from a hugely pregnant Sam, whose fiancé is less than desirable as we come to learn, even though she assures the other occupants of the train car that he is critical because he's looking out for her, you see. The two bond over song and their wayward lovers but no sooner than the last note is sung does she go into labor.
Thankfully, the studious young gent in the corner is a med student! How stupendous! Unfortunately, soon-to-be Dr. Liam Shaw (played by Elliot Greer) is crippled by his own demons and feelings of inadequacy. In fear of failure, he refuses to help and hides away in a corner. Mindy, Greg, and Stan are left to help Sam with no clue of what they're doing. Their only support comes from the nameless occupant of the train (India Carney) who bursts forth from her blanket to deliver a compilation of subway ads set to music, "If You See Something, Say Something", a song that surprisingly contains much more wisdom and depth than it ought thanks to musical director Jeremy Lyons. From her laundry cart of wonders, she is able to produce a few items to help the witless group put the now screaming Sam at ease.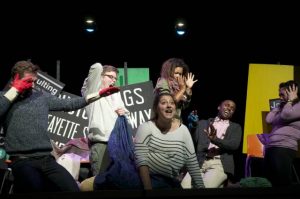 By this time, our Blackberry-toting man in a suit, Cal, has had enough of these people and their problems! Who gives birth in a subway for heavens sake?!?! It's hardly sanitary! He attempts to pull the emergency break for help but only results in delaying the train further and facing the disdain of a highly disinterested conductor, who is little more than a fuzzy voice through an intercom, as well as his fellow passengers. His outspoken complaints don't win him any friends in the car either, and won't his psychiatrist have a lot to say about that!
Finally Greg, who clearly was hiding his leading man material behind his thick-rimmed glasses, takes charge and pulls Liam out of his bubble of self-doubt. The group manages to deliver the baby, with Cal surprisingly coming to the rescue with a pair of salad tongs of all things. In the glow of afterbirth, the seven strangers realize that most of them don't even know each other's names even though they've just pulled together in the face of disaster. They hug and say their goodbyes as one-by-one they exit the train, knowing that even though they may never see each other again, they'll always be connected by the night's events.
The cast, made up of several LaGuardia High School of Performing Arts alums, give strong performances, portraying their characters with an easy realism.  Geena Quintos shines as Mindy, the high-strung, vegan, gluten free, yogi with so many causes that she doesn't have time for dating-the stereotypical New York woman.  Jordan Barrow's execution of Stan was flawless; he had me at "fucking T-Mobile." And Yael Rizowy's labor moans had me clenching my legs together in sympathy.  The breakout star of the performance, however, was vocal powerhouse India Carney, who played the train car's resident, Lilith.  Despite her unkempt hair and dingy overcoat, Carney's beauty shone through and her powerful pipes blew the audience away.  That woman could sing an eviction notice and I would clap!
Amidst the comedy, the singing, and the hilarious "subway-shuffle" choreography, Held Momentarily makes a powerfully thought-provoking statement for any New Yorker who has ever ridden the train. It is an honest look at the way we commute; isolated even when physically surrounded by people in small space, choosing to be disconnected from everything but our own problems and sometimes outright avoiding interaction with others as if showing a little humanity would somehow make us lesser.  The message is as clear as the writing on Lilith's cart, "Be not inhospitable to strangers, lest they be angels in disguise."  It's no wonder the audience fell a little bit in love with this production and I'm sure that none of us will ever look at a simple train ride the same way ever again.
The New York International Fringe Festival continues through August 24. For more reviews of FringeNYC shows, click here.