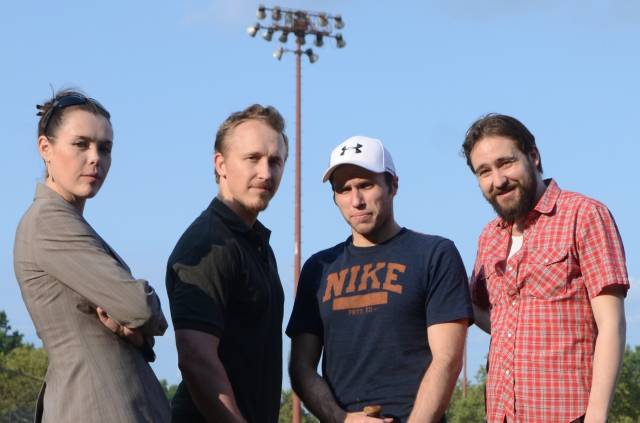 Everyone loves a good sports story and Secondary Pitch does not let down! As if the premise of a show about brothers and baseball weren't enough of a draw, the world premiere production from Randomly Specific Theatre has the added bonus of viewing like a reality TV show complete with sibling rivalry, love connections, and questionable drinking habits.
Written by Larry Phillips and directed by Matthew J. Nichols, the show focuses on the Dowd brothers. Middle brother Stephen is a recently retired major league pitcher who has moved in with his two brothers while going through a nasty divorce. He and his older brother, Paul, can't see eye to eye on anything; his younger brother, Kevin, can't bother to keep a job because he is destined to be famous. When producers from TLC approach Stephen about filming a reality show about him and his brothers, Paul refuses and tensions come to a head.
The four person ensemble cast features the talents of Phillips, Ryan Dusek, Peter Buck Dettman, and Phoebe Leonard. Phillips stood out as eldest brother Paul. His ire at his younger brothers literally shook the theater (and made me instantly want to call my sister to tell her I love her). Dettman was delightful as the carefree youngest brother Kevin, and Ryan Dusek excellently portrayed Stephen's frustration about his state of affairs. Phoebe Leonard, the sole female actor in the production, was endearing as Meredith. though I couldn't quite wrap my head or my heart around her as an shrewd TV producer after seeing a softer side of her get close to Paul.
The close quarters of the Bridge Theater were an asset to this production, and Nichols made great use of the space. The audience was seated in the Dowds' living room and took in the action much like one would consume TV from their own living room couch. I was so comfortable that, at one point, I almost reached out to answer Stephen's phone -- which would have been awkward seeing that is was his ex-wife calling, and also, a prop.
Secondary Pitch is a refreshing take on the typical sports story. There's just enough drama for all the Real World lovers and just enough baseball to leave you craving for ballpark franks and cracker jacks.