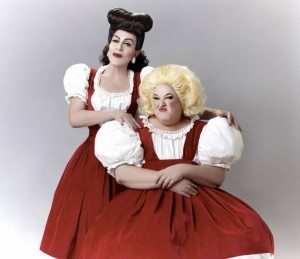 Christmas With the Crawfords, now playing at the Abrons Arts Center and starring Joey Arias, Chris March, and Sherry Vine, is a droll parody of the "at-home with the stars" holiday specials of yesteryear. The year is 1940 and in her Brentwood mansion, Joan Crawford prepares for her Christmas Eve radio special on the Hedda Hopper broadcast. In attendance are her children, all dressed in their finest, with a special appearance by a rather dour Baby Jane Hudson.
Despite the idyllic setting, a behind-the-scenes look shows us that Joan, recently having parted from MGM, is distraught over her recent string of bad luck and the fact that Jack Warner has asked her to do a screen test for an upcoming film. The show also makes light of her alleged mistreatment of her children, specifically the elder Christina and Christopher. Joan tries her best to keep it together and give her fans a good show, and a slew of celebrity guests drop by, most of whom got lost on the way to Gary Cooper's Christmas party. A veritable Who's Who of the Hollywood Golden era, talent such as Judy Garland, Gloria Swanson, Hattie McDaniel, Carmen, and Ethel Merman grace the stage to deliver their own renditions of favored Christmas carols -- all while Joan gets closer and closer to snapping.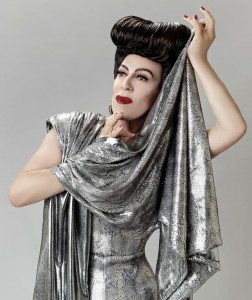 Joey Arias is fantastic as Joan Crawford. Every bit as regal as the real Joan, he also brings a dry wit and sarcasm to the part as only he could, while somehow managing to dance around in sky-high stilettos. Chris March, of Project Runway reknown, delights as a snarky, embittered young Tina Crawford. The two had the audience in stitches as they traded jibes and heated glares, often breaking the fourth wall to express their utter loathing of the other.  Other bright spots in the cast included Sherry Vine, pulling double duty as Baby Jane and Hedda Hopper, and Connie Champagne's utter perfection as Judy Garland.
With such a talented and lively cast, it's no surprise that the audience couldn't help its raucous cheering throughout the production, indicating a job well-done by director Donna Drake and producer Richard Winchester. Both superbly entertaining and sure to fill you with Christmas cheer, this show is a feel-good alternative to the humdrum holiday classics.