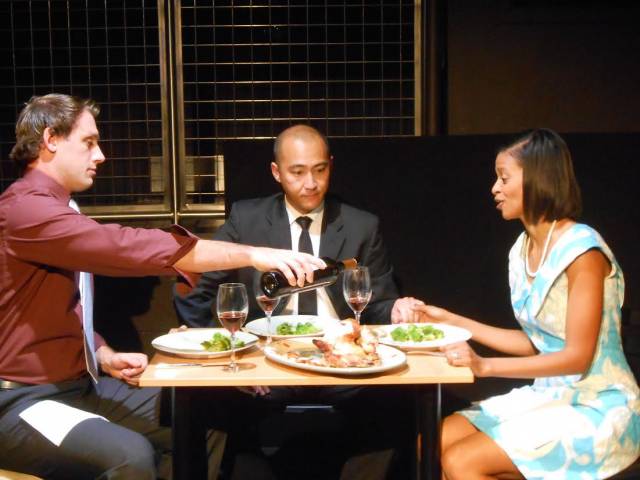 Turning the Glass Around is a poignant drama about a Korean American man's unraveling following the death of his father. Written by Pia Wilson and now playing at Teatro Circulo, the play is an in-depth exploration of grief and mental illness in the face of racism and disillusionment with the American Dream.
The play follows the life of one Philip Lee, played by Don Castro, and his African American wife, Daina (Carmen Gill). Lee is first generation American and comes from a modest family while his wife hails from a wealthy, blue-blood family. The couple lives a happy life and the two complement each other well; yet we soon learn that Lee has been fired from his job and that the couple are barely scraping by. His guilt coupled with his grief pushes him over the edge and he soon begins to suffer from hallucinations. Lee becomes fixated on the idea that he has seen his own doppelganger, a sign of his impending doom. When he follows his lookalike around for an entire day, William Eaton (Topher Mikels) shows up at his house to confront him. Lee is convinced that Eaton is his carbon copy, and we come to see that Eaton represents everything Lee wishes to be: a blonde-haired, blue-eyed, successful, All-American businessman.
The small cast delivers strong performances all around. ­­­­Castro brings a palpable anxiety to the character of Lee while Gill gives an illuminating portrayal of Daina's struggle to stay faithful to her husband despite his condition. Mikels brings Eaton to life as a pretentious trust fund baby who is used to getting everything he wants. Last but certainly not least, Kristen Hung is delightful as the disapproving, Korean mom who is as sarcastic as she is formidable.
The one setback to the performance was that the small venue does not support all the production tries to do. While transitions were smooth and well-timed, intricate shadow puppetry was sadly lost in the space. Even so, this drama still manages to make a strong statement about racism and identity in America.
Turning the Glass Around continues its run at Teatro Circulo through November 1. For more information and tickets visit https://www.turningtheglassaround.com/