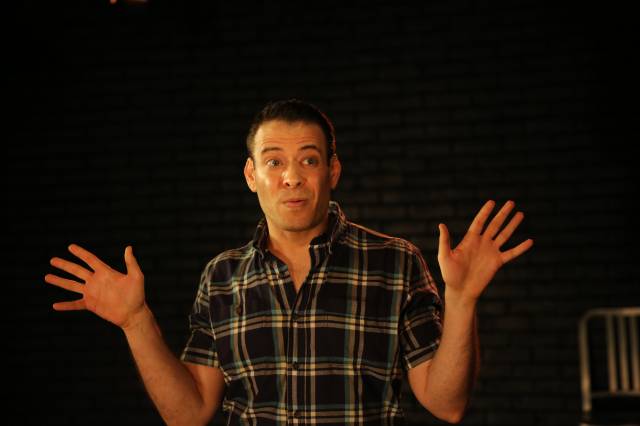 For Hoaxocaust!, throw away everything you know about the Holocaust. Actually, maybe don't throw it away -- you'll need it to understand the play -- but momentarily suspend everything you thought about the worst monstrosity of the 20th century because Barry Levey will make you question not only what you've heard about it but also why it's such a huge part of today's Jewish identity.
As a Jewish descendent of Holocaust survivors myself, Levey's show (which he both wrote and performs) resonated with me. His one-man tale about his struggle to be connected to the Jewish people while understandably trying to divorce himself from the common victimhood mindset of the Chosen People is a problem that many secular and Orthodox Jews face today.
Levey is funny and engaging as he delves into his story about the week leading up to his brother Howard's wedding. Howard, living in Budapest, is marrying an Arab girl (or a "girl of Arab descent," Levey very PC-like clarifies for us). Levey's mother can't get behind the idea of her son inter-marrying despite the fact that the Levey family is not all that affiliated with faith; his boyfriend, Anthony, flat-out calls this racism.  In Levey's ensuing arguments with both mother and boyfriend, the specter of the Holocaust looms, used as the pinnacle of justification for Jews marrying their "own kind."
The Holocaust is the ultimate argument-ender for any political, theological or mundane arguments, and Levey sets out to find out why. Why, he asks, is this event so intertwined in our present identity today and is it possible, even a tiny bit, that it wasn't the horrific monstrosity we had learned it to be? His journey leads him to London, Paris and to the Holocaust Denial Conference in Iran. Along the way, he speaks with authors and historians, revisionists and deniers to find out if truth is exactly as black and white as we think it is.
Levey admits to us upfront that he is a writer, not an actor, and his cartoonish British, French and Dominican accents confirm that, but his story feels so genuine, his presence so intimate that you can't help but give your mind and heart over to him as he plays with the relativity of truth.  It's little wonder that his show received the FringeNYC Award for Excellence and was booked for encore performances. Hoaxocaust! will surprise you, amuse you, and might even anger you a bit. But it will make you think and rethink long after the curtains close. And that is something rare and wonderful to find.
Performances of Hoaxocaust! continue at the Baruch Performing Arts Center through September 21.  For more information and tickets, click here.  And be sure to check out our interview with Levey here.