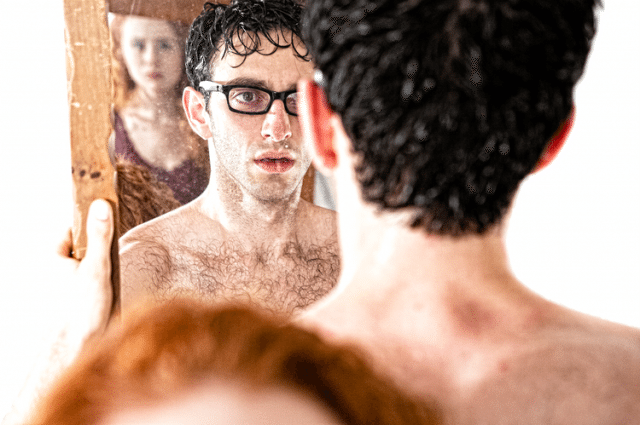 Can you imagine having the chance to recreate a relationship, after it has already ended? Well, making its world premiere, <50% does exactly that. The play comes to us from actor, stand-up comedian and writer, Gianmarco Soresi, who decided to write a play after his five-year relationship ended; he leaves it up to us to decide what is true.
<50% (originally a stand-up comedy act) is part of the New York International Fringe Festival, the largest multi-arts festival in North America, offering close to 200 shows, from August 8 to 24th.  Laura Catalano plays (and was) the real love interest of Gianmarco. She comes back to New York, after relocating to Los Angeles, to star in this production -- which keeps the two connected and forces them to finally produce the real emotion that has been lurking beneath the surface.
The two have good chemistry and their constant bickering on almost everything (religious beliefs, views on marriage, outlooks on life) keeps the audience entertained. While Laura loves love and views marriage and having a family as something positive, Gianmarco is cynical and always looking for a way to prove the belief wrong; the title, <50%, represents the chance of a marriage working out, with the percentage dropping the second and third time. After letting this way of thinking define his outlook for so long, he finally breaks down and reveals that he is afraid of losing the happiness he feels, and in the end, ultimately wins because he is able to give Laura what she wants -- his vulnerability.
This show will keep you laughing and engaged as you follow their journey. The breaks that the stand-up bits from Gianmarco provide are comedic gold, using his skepticism to poke fun at the many popular beliefs surrounding dating and relationships. By the end, you may even realize that your own relationship is not as dysfunctional as you thought. So why not spend an evening laughing and celebrating that?
<50% continues its run at the Kraine Theater through August 23 as part of the New York International Fringe Festival.  For more on FringeNYC shows, click here.