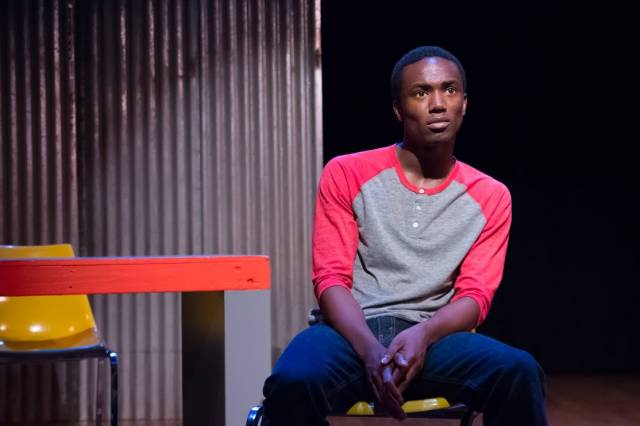 "No one asked me" is exactly the response you'll find from millions of first generation if you ask for their opinion on immigration reform. When it comes to this country's methods of handling children brought here from other countries to seek relief, we've collectively failed to ask those affected by policy what their most important needs are. In No One Asked Me, now playing at the New York International Fringe Festival, playwright Kate Ballen and Australian director Matthew Newton examine this breakdown in communication while providing a pensive theater piece that explores social issues.
Being a high school counselor in a city with over 50,000 undocumented students is sure to give one loads of personal insight into the world of obtaining American citizenship; it certainly did for Ballen, who worked for the New York School System before becoming a playwright. As the conversation about immigration reform can often get very heated and convoluted,  the ability of the actors to portray the weight of the situation with such clear intensity in Ballen's play is a breath of fresh air. Cornelius Franklin's Daniel, the son of a Ugandan women led to the US through an abusive relationship, showed the seriousness of conflict that drives peace-seekers to the US.  Alyssa, played by Alaina Fragoso, is supposed to be the 'ideal' immigrant, making a near perfect GPA and excelling both at school and socially. Her struggles to get into college as a result of her immigrant status, however, showed how the typical American statute of "hard works always pays off" can be so untrue and damaging for those going through the US immigration system.  The audiences responded with compassion instead of blaming the frustrated Sophie (Octavia Chavez-Richmond), who after spending majority of her life in the US, expresses anger and disappointment that the system will not allow her the opportunity for a better life than the one she escaped. Gary De Mattei plays the the off-putting and distracted attorney Isaac, whose performance gave much insight to those who are unfamiliar with the legal obstacles to citizenship. 
Between the revolutionaries, the hard-working, and the wounded, No One Asked Me manages to rise above a victim complex, and facilitates a much needed dialogue between art and reality. In a country that tends to rely on controversial art as a catalyst for progression, one can only hope that No One Asked Me will lead to more honest conversations in our fight for progressive immigration laws.
Performances of No One Asked Me continue through August 22 as part of the New York International Fringe Festival.  For more on FringeNYC shows, click here.