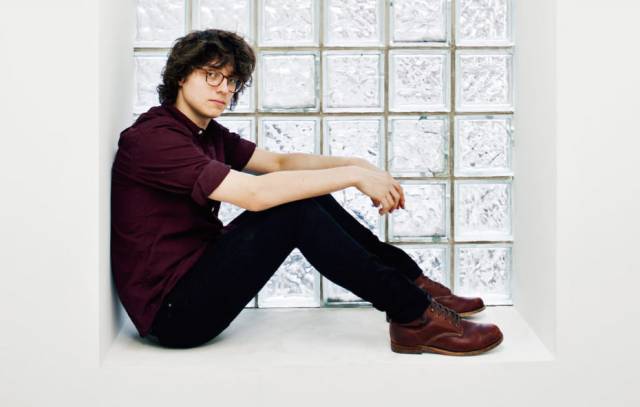 We recently took a moment to sit down with indie artist Elliot Moss to see what was on his mind as he approached the release of his debut album, Highspeeds, out today on Grand Jury. Moss is known for his intense, entrancing brand of self-made sonic-pop, having graced the stages of festivals from SXSW to CMJ. You can catch him performing the entire thing live on April 29 at Baby's All Right in Brooklyn, and check out our interview below.
Despite being what some may consider to be an "alternative" artist, your song "Slip" was hailed as one of the best songs of last year. How do you handle all of the popularity and success and still keep your music so grounded and untraditional?
Elliot Moss: I don't know about any of that?! But in terms of writing, I work until something is inspiring. And genuine inspiration almost always comes from something that's new to me, so I shoot for less traditional ways of writing in hopes of finding somewhere I've never been before.
Your music has a lot of interesting juxtapositions to it. For example, "Slip" has its bluesy-acoustic moments, but it's also very soulful and futuristic. Who were the influences that helped you craft your style and shaped your sound?
I think I'm most influenced by what I'm learning or experimenting with at any given moment. When I made slip, I was toying with disparate vocal processing methods and happened upon one that felt very musical to sing through. I wrote the song singing through the effect. The artists that originally got me thinking about vocal processing are Daft Punk and Imogen Heap.
What's the first feeling that comes to mind when you describe your upcoming album Highspeeds and what do you hope fans will learn about you through this album?
Highspeeds is shadowy and serious but it's about hope. I think having the two next to each other make the bright look brighter, and the dark look darker. I want people to experience the same emotions and resolutions that inspired the songs.
You performed at SXSW this year, and you were a total hit. Do you have any pre-performance quirks or routines that you stick to?
Before the show we try to have some quiet time in our green room (when we can). Devin warms up on a pad somewhere in the hall, and I can close my eyes and focus on the reverb-y double-stroke rolls, drowning out everything else. It's something consistent and comforting. Little things like that start to feel like home.
Highspeeds has some seriously heavy themes and a very ethereal emo-ness to it. What made you go in this direction and what song do you connect with the most on the album?
That's tough, if I had to pick one it would be "Even Great Things" because it's the most raw. Sort of spilled out quickly without much else getting in the way.
Are there any current artists out right now who's music you stan for or would love to work with?
I would love to work with Caribou, I think he's fantastic.
You're based out of New York and you have show coming up at Baby's All Right on the 29th for the album release. What do you love most about the city and do you have any plans or things you want to do here this summer?
I love how you can do nearly anything by hopping on a train - I don't know a lot of places like that. I hope to play more shows in NY this summer!
What's one random, surprising thing you want people to know about your music (or yourself)?
My song "Big Bad Wolf" has sounds of me driving around my town in the breakdowns. One of the many noises is windows rolling down, pitched way deep.
Highspeeds is out April 28, 2015 on Grand Jury. Purchase on iTunes here, and for more information on Elliot's record release party at Baby's All Right click here.