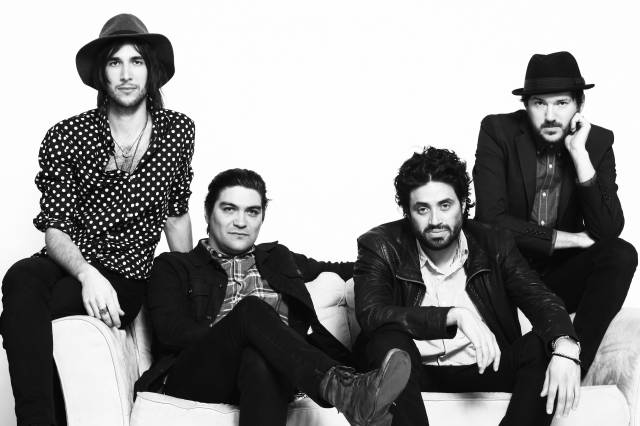 StageBuddy sat down with San Francisco's Soft White Sixties to talk about their album, Get Right, and to catch up with the band before they visit NYC for two shows in October.
The last two years have been such a success for the band; how does the new album, Get Right, reflect the changes you all have gone through, and what was the inspiration behind the album title?
The band had been playing shows for a few years and released one EP prior to Get Right, so this album was a closing of one chapter for the band in some ways and an opening of another in other ways.  We jokingly refer to Octavio's Paxil prescription as his "get rights" amongst the band, but a lot of the songs on the album also deal with one person urging another person to get their shit together. So the title seemed fitting on a few levels.
You were able to get the album done in about a week. Can you describe the process and how you all felt after hearing the final version?
We actually did quite a bit of preproduction with our producer, Jim Greer, in the weeks leading up to the recording time we had booked, so by the time we got into the studio there wasn't much up in the air. Once we got in there we just had to focus on getting good tones and performances rather than writing. We're really happy with how it turned out and are proud of the batch of songs that made the cut.
You recently played at the Fillmore in San Franscico, your hometown. What was the energy like and were you at all anxious about playing for such a large crowd in front of your peers?
It doesn't get much more "San Francisco" than the Fillmore as far as music history goes, so we were really excited, to say the least. It was a great night with a lot of new and old faces getting sweaty with us and making us feel good to be home.
Your sound has a very eclectic feel to it. Who were your biggest influencers and what mark/impression do you want to leave for up and coming bands who are dealing with some of the same issues/struggles that you all had in the past?
We're influenced by every single thing we have ever listened to - the last 70 years of recorded music. We write songs that we like to hear and feel good playing, and that's what ended up on the record. Rhythm, melody, choruses.
If you guys could play a sold out show, at any venue any where in the world, where would you choose? 
Red Rocks, The Greek Theater (Berkeley), Wembley Stadium, or AT&T Park!
What can fans expect to hear from your new album and your upcoming shows here in NY on October 9-10? 
We've been on the road a lot this year so I think the next album will be influenced by the energy and urgency of our live shows quite a bit. Bigger songs, deeper grooves, heavier tones. We're excited. You can probably expect to hear a new song or two at the NYC shows.
*For each member* What's your favorite track on "Get Right" and why? 
Joey: "City Lights" because it's upbeat and energetic.
Ryan: "Don't Lie To Me". I like the groove.
Octavio: "Roll Away". We did that one all live in one take and it's the only song like that on the record.
Aaron: I really like how "Up To The Light" turned out because it feels like it has a sound unique to our band.
Don't miss Soft White Sixties in New York, 10/9 @ The Knitting Factory and 10/10 @ Webster Hall.