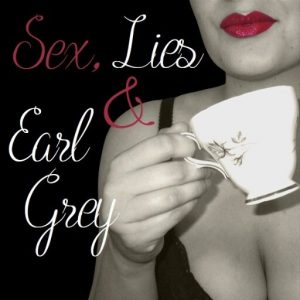 Calling all tea lovers and a few coffee drinkers, too: Sex, Lies & Earl Grey is a must-see musical comedy at this year's New York International Fringe Festival! Writer, actor, and comedienne Deborah Berenson's FringeNYC debut is a revealing portrait of one woman's unraveling even as she tries hard to hold on to the propriety and etiquette that she has relied on all her life to get her through difficult times.
An interactive performance, Sex, Lies & Earl Grey invites the audience to take part in an introductory etiquette workshop entitled "Tea with G". The instructor is no other than our protagonist G, also known as Mrs. Georgina Grace, a proper English lady well versed in etiquette and decorum. From making introductions to explaining an almost scientific steeping procedure, Georgina leads the audience through the proper steps to making the perfect pot of tea, punctuated by bouts of song and dance and served with a side of sass. Despite her foolproof itinerary, Georgina proves to be chatty and vivacious, often going on tangents about her life, which is how we learn about everything from her education at an all-girls school where the other girls called her "George" to the way her dear Jeffrey proposed to her at the butcher shop, costing the poor butcher three of his fingers.
Georgina, of course, has plenty of advice to give and with an accent as darling as hers, it's impossible to believe that her criticisms come from anything but love. So what if she implied that I was a lush or that Americans eat too many fried foods? So what if she threw paper cups at us while she ranted about our coffee habits? Clearly, she was only trying to help us better ourselves! It was only when she asked a fellow audience member to help her demonstrate the proper taking of tea and ended up giving him a lap dance to a rousing verse of "Like A Virgin" that I began to worry. Still, I was rooting for dear old George. I mean there had to be some proper explanation of why Paul or Saul or Whatshisname ended up on the floor with a face full of her barely covered...crumpets.
Seeming to sense our confusion, Georgina righted her frock and instead bared her soul, giving us a glimpse into her less than ideal childhood, the taunts of her classmates, and the bitterness that befell her once happy marriage. All thoughts of tea were forgotten as we were left to determine why G decided to make a new start teaching tea classes, what happened to Jeffrey, and if his sudden absence had anything to do with the glass vial she carries in her purse.
A hilarious performance full of catchy tunes and Berenson's sharp wit, Sex, Lies & Earl Grey is sure to be everyone's cup of tea.
Sex, Lies & Earl Grey continues its run at The Celebration of Whimsy through August 14 as part of the New York International Fringe Festival.  For more on FringeNYC shows, click here.