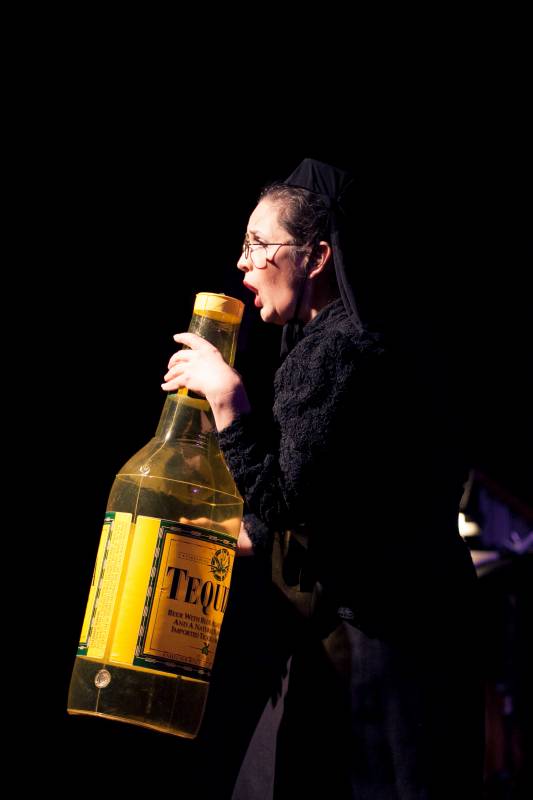 As the audience enters The Celebration of Whimsy a.k.a. The C.O.W performance space on the Lower East Side they are greeted by actors/characters in various states of inebriation wandering about the stage. A fitting set up for SMASHED The Carrie Nation Story presented by Opera on Tap at the 2014 FringeNYC. SMASHED strives to create an immersive bar atmosphere, encouraging audience members to sit at tables while the action swirls around them. I opted for a seat further away. There is no fourth wall and although no actor sat in an audience member's lap, stick on moustaches are passed out for us to wear in solidarity with the drunkards and characters do pass out at our feet. (Note to actors, when using your water filled squirt guns do not spray audience members directly in the face!)
Carrie Nation was a temperance advocate in the early 20th century whose divinely inspired campaign against alcohol included smashing up bars and taverns with a hatchet. Interestingly enough Carrie has also shown up recently as a character in another musical, Michael John LaChiusa's Queen of the Mist. SMASHED is a loosely structured set of comedy oriented vignettes that crisscross between the 20th and 21st centuries.  Drinking songs and opera seem to go together. "Libiamo ne'leiti calici" from La Traviata and "Im Feuerstrom der Reben" from Die Fledermaus spring to mind, and SMASHED has several short ones that instruct us on the joys and perils of alcohol consumption.  At times, the story is a little too freewheeling as the two camps – Carrie Nation and her All Stars and the Uncle Jimmy Liquid Courage Brigade -- defend sobriety or inebriation. The brigade at one point sings that if you are sober you might have to "listen to each other".  Although SMASHED is billed as slapstick and hilarious, it's the dramatic scenes which are the most compelling. In a fully realized aria, Carrie Nation (Krista Wozniak) reveals how she fell in love and married a young doctor who died a year later of alcoholism. This expansive aria gives us a deeper understanding of Carrie's radicalism. There are also several dialogues between Carrie and God, played with marvelous deep resonance by David Schmidt.
The nine cast members all sing gloriously and it is always a pleasure to hear unamplified voices. Lynn Berg's stage presence as the Narrator has a delightful Toby show quality; he and Krista Wozniak give us the best sense of the time period when Carrie Nation lived. Ms. Wozniak's voice is lush and she makes an impressive entrance on a high note. The composer James Barry often uses dissonance to create some intense harmonies, especially when the All Stars sing back up for Carrie.
At the end of this opera, a decision that imbibing is best is made and the cast ends with an anthem to booze, encouraging the audience to stand up and sing along. Makes sense that alcohol wins…the Brooklyn based company is named Opera on Tap and they do perform in bars!
Performances of SMASHED continue at the Celebration of Whimsy through August 15 as part of the New York International Fringe Festival.  For more on FringeNYC shows, click here.