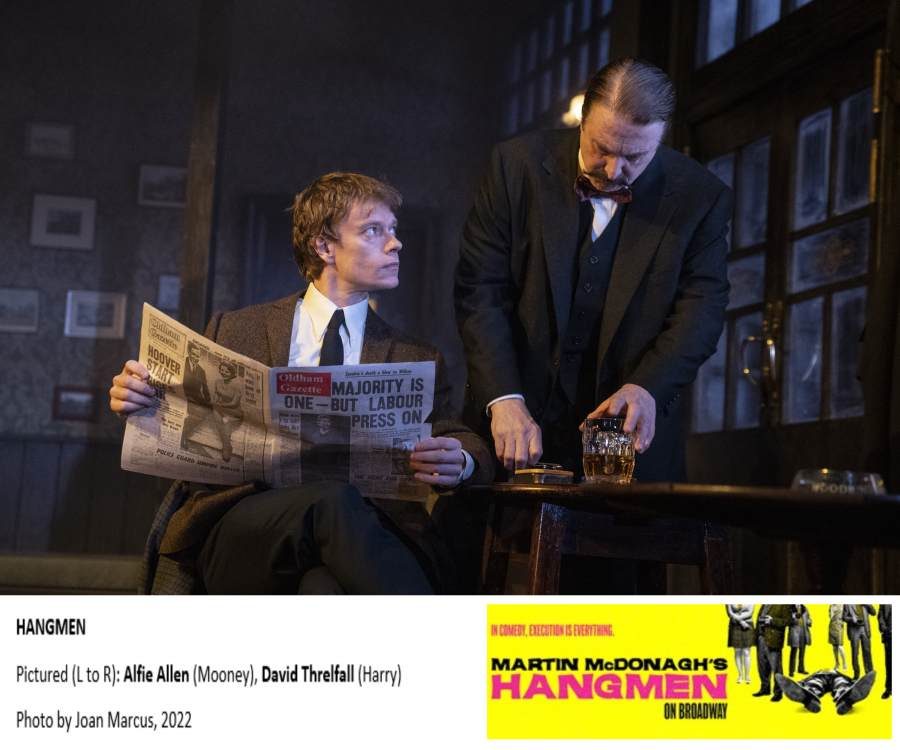 Black comedy, or gallows humor, is a style of story telling that makes light of subject matter usually considered somewhat taboo, like death, suicide and disease. Either term applies to Martin McDonagh's latest play, "Hangmen." Harry, the main character, is a hangman by trade or that is, he was until hanging was eliminated in Great Britain.
Death by hanging was legal in England for centuries, but on November 9, 1965, the Murder (Abolition of Death Penalty) Act abolished the death penalty, putting Harry out of a job. So now he (David Threlfall) tends to the family's pub with his wife Alice (Tracie Bennett.) where he and his entourage (imagine the English version of "Cheers") hang out all day. Harry is tough, unsentimental and direct. He's quick to make pronouncements and the denizens of the bar 'hang' on his every word. He is like a rock star with a tipsy entourage.
Surrounded by his alcoholic syncophantic friends, Harry is still reliving his glory days and although he claims to 'keep his own counsel" since a victim's last moments should be sacrosanct, his vanity gets the better of him when a young newspaperman comes for a story. Harry tells all and revels in the article when it's printed. In it, he reveals the number of people he has hung and also derides his 'competitor " Albert Pierrepoint, the number one hangman. He resents Pierrepoint and doesn't want him to get 'credit' for hanging Nazis.
The play begins with a hanging; Hennessy is screaming and protesting his innocence until the very last moments. And although the audience feels a shred of doubt, Harry feels none and coldly carries out his duty.
Later this causes the audience to wonder if Hennessey was innocent. And is there any connection to the slightly 'menacing' stranger who appears at the pub? Mooney (played by Alfie Allen (of "Games of Thrones") is sinister enough to be alarming. Allen speaks quickly and confidently, confusing the locals.
Things become even darker when Harry's naive daughter Shirley (Gaby French) goes missing. The last time the audience saw Mooney, he was making plans with Shirley. Hmmm. Could he be responsible? Her father, quick to anger and used to taking matters into his own hands, does exactly that and seeks answers to Shirley's whereabouts.
The thick accents and the high pitch of French's voice make some of the dialogue difficult to understand. There are also some English phrases that will be unfamiliar to an American audience. I had to look up Babycham in the script to understand the references. At home I would have put on the subtitles and probably enjoyed the show even more.
This play that won two Oliviers, including Best New Play, is the seventh work of McDonagh's to be presented on Broadway, and under the expert direction of Matthew Dunster, is quick-paced and moves like a well-oiled machine with a skilled cast.
The end is not quite what we expect and that adds to the uncomfortable glee the audience feels in watching the play. The overall effect of "Hangmen" is dark and eerie, and yet it is a strangely enjoyable experience.