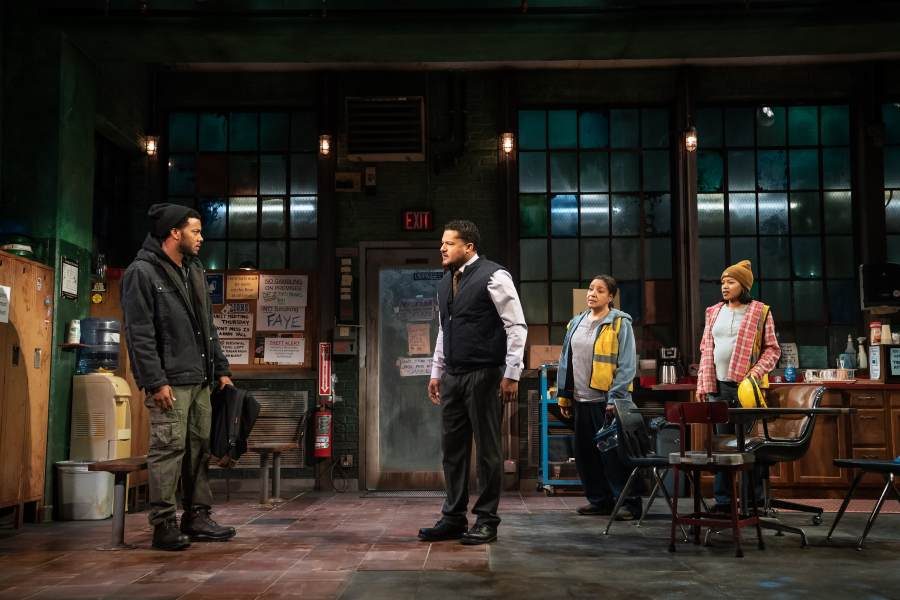 For many audiences, Phylicia Rashad will always be the elegant unflappable TV wife/mother/lawyer in The Cosby Show. She came into their homes every Thursday like a welcome friend. After the conclusion of her television stint, Rashad went on to appear in several Broadway productions, including Cat a Hot Tin Roof and Raisin in the Sun. So when she made her first entrance on the Samuel J. Friedman Stage, starring in Skeleton Crew, she was greeted loudly by an appreciative audience.
Once again she portrays a maternal figure but this time clad in jeans and a work shirt, she is Faye, the union rep and factory worker in a Detroit factory in 2008. Other factories are closing and workers are losing their jobs. The play begins with characters discussing the closure of a local plant and wondering about their own fate.
The specter of their factory closing hangs over the workers. Shanita (Chante Adams) is pregnant and single. This job means more to her than money; it's her validation to herself and her father. Dez (Joshua Boone) is saving to open his own business. Although he's a rash impetuous young man, the job is important to him as well and he takes pride in it. Faye is the senior worker, having been there more than 29 years. Over the course of her career she worked on many different floors and had several different positions. Not without her vices (gambling and smoking,) Faye is the voice of experience, often giving advice and imparting wisdom to her two younger colleagues.
The fourth factory employee is Reggie (Brandon J. Dirden.) Having worked his way up to the position of manager, Reggie has a strong bond with Faye who was close friends with his mother. Reggie confides in Faye that the factory is closing but asks her not to tell the others until he decides what to do. She is torn because as a union rep and a friend, she wants to ensure that the workers get what they are entitled to.
One source of humor in the play is Reggie's management style; he manages through handmade signs which he posts through the break room and which are always ignored. He states rules and even names the violators (No smoking, Faye.) In fact, when the play first opens, two of the signs posted remind the audience to turn off phones and to keep masks on.
Tensions run high when things are stolen from other floors in the factory. Management begins clamping down and, in some cases, the workers feel that the company is looking for reasons to fire people.
Deftly directed by Ruben Santiago-Hudson, the casting is perfect in the Manhattan Theatre Club production. Although Rashad has the name, the play is essentially an ensemble piece. The workers have become a family even though Reggie and Dez seem to butt heads. In between scenes, the audience watches the silhouette of a performer (Adesola Osakalumi) dancing and whirling as the sounds and sights of machinery turn about him.
The script by Dominique Morisseau is beautifully written with lyric language and imagery. Undoubtedly, it would make as wonderful a read as it does a visual experience. (Scenic Design by Michael Carnahan.)
By the end, the audience becomes immersed in these characters' lives, their goals and dreams. It shares their frustration and even their anger at management who sees them as numbers and salaries to be eliminated rather than valuable people.
Faye, the chain- smoking mother figure, sets out to protect the workers, her friends and family, and even though the factory will eventually close, she does get the last laugh.