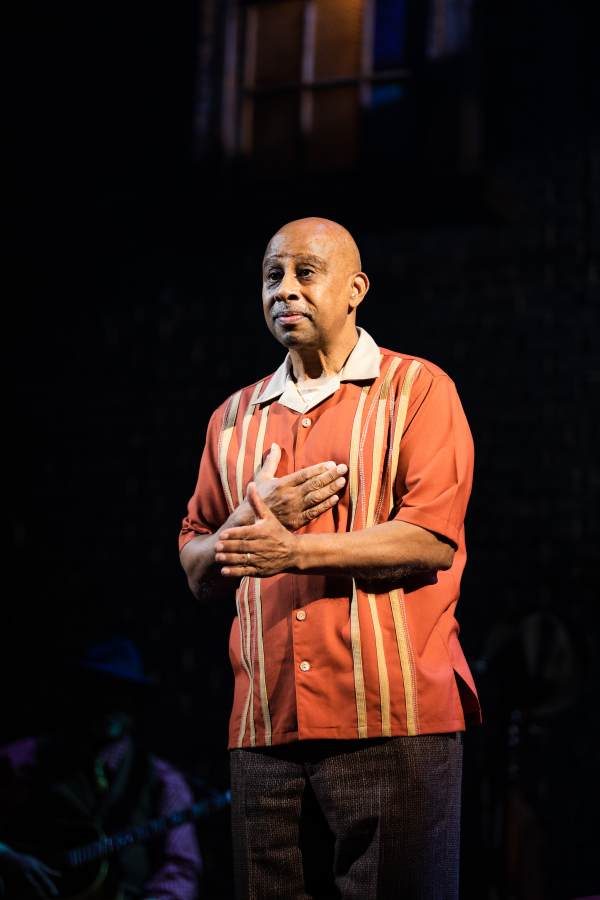 Ruben Santiago-Hudson was raised by his grandmother. So he did what any talented theater person would do-he wrote a play about her! "Lackawanna Blues" is Santiago-Hudson's paean to his grandmother, Rachel Crosby. She was Nanny to him but to the many people she fed, supported, encouraged and defended, she was affectionately known as "Mother."
I thought of Ruben-Santiago mostly as the award-winning director of "Jitney" and "Ma Rainey's Black Bottom." but the one-man play reminded me of how talented a performer he is. Throughout the entire 90 minute one-man show with guitarist Junior Mack on stage providing music, Santiago-Hudson introduces us to more than 25 memorable characters, adopting distinctive postures, accents and tones. Some of them tell complete stories while others share only a line or two. Every so often, Santiago-Hudson pulled his harmonica from his pocket to play.
He also portrays Nanny and, of course, a young Ruben. As the writer-actor flips from one character to another, a clear portrait of Nanny emerges.
The story begins with Nanny explaining how she became independent, eventually owning two boarding houses, a taxi service and a restaurant. As she gathers enough money, she brings her family up to Lackawanna from the South to join her. While other people tend to avoid ex-cons, prostitutes, drug addicts and mentally ill folks, Nanny recognizes their needs and reaches out to them. Nanny helped everyone. She was like the government and IT really worked."
The dialogue is colorful and often poetic. Santiago-Hudson smiles a great deal and I found myself smiling under my mask along with him. Some of his most daunting characters are hysterically funny. One character, a former Negro League pitcher, down on his luck, describes the sights of NYC including the "Entire State Building." He's saddened that the doctor has told him to quit drinking because he has "da roaches of the liver."
Santiago-Hudson describes and depicts one man and his quirky mannerisms, including his tongue that darts in and out, like a tadpole. A one-legged man was recently released from a mental institution, and Nanny reached out to him and offered him a place to stay. Later, the audience 'sees' the fight between him and Numb Finger Pete. (Pete lost his fingers to frost bite)
With fragments and snippets, the extraordinary actor creates a series of vivid characters. Through them, the audience gets a full picture of the woman who raised him.
Independent, supportive, loving and tough. In one of the most telling scenes, he enacts the story of Norma who is beaten up by her boyfriends and bloodied, she flees to Nanny. When Gerald shows up, big and menacing, Nanny doesn't back down. She stands up to him and he leaves.
What a special lady and what a lovely gift that her grandson has created in her memory. He is sharing her with the world, and we are lucky we get to meet her.