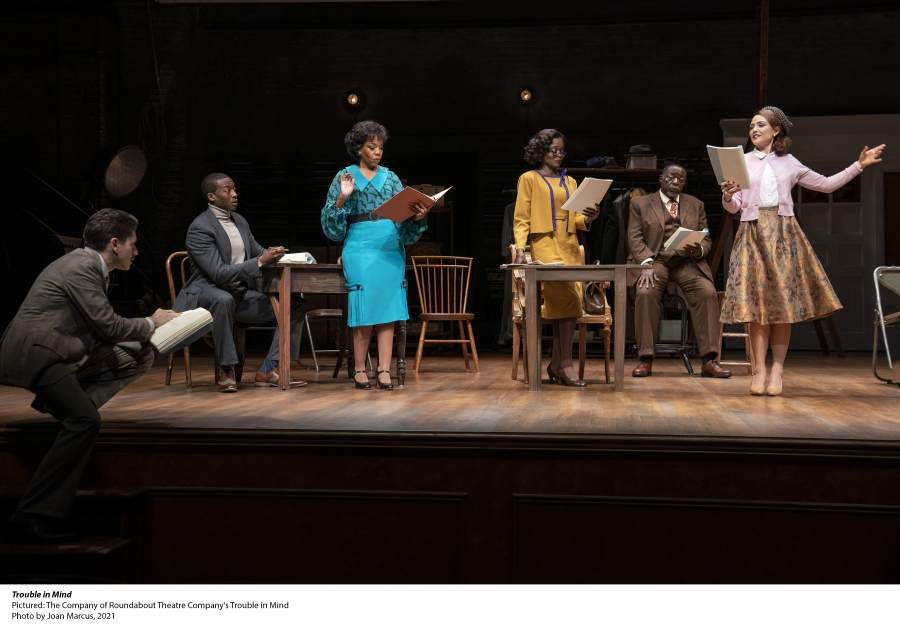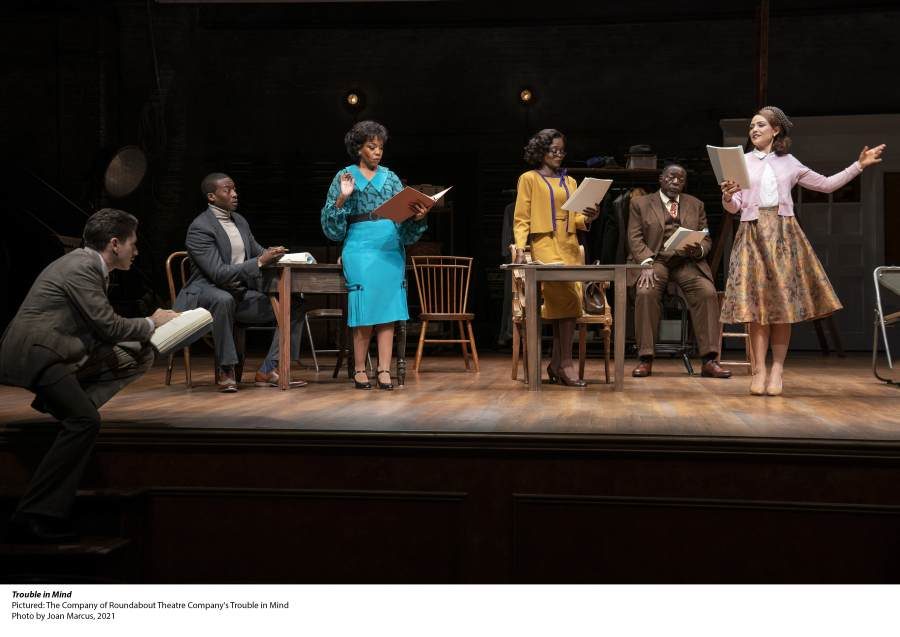 "What's your justification?" demands the director, prodding his actors to consider their characters' motivations in the play "Trouble in Mind." Playwright Alice Childress had her own motivation when she wrote the play 60 years ago. She wished to portray how Blacks were being depicted in theater. Produced in 1955, the play was so well-received that Childress was offered a Broadway theater if she "toned down" the ending. Having herself been frustrated as a Black actress by stereotypical roles for performers, Childress refused. It took more than 60 years before the play finally had its Broadway debut at the American Airlines Theatre by Roundabout Theatre Company.
Actress Wiletta Mayer, a middle-aged experienced Black performer (portrayed by a divine LaChanze) loves the theater but is resigned to being directed by whites. She is cynical and sarcastic. When she arrives at the darkened theater for the first rehearsals of a new play about a lynching, she meets young John Nevins (Brandon Michael Hall.) It's his first production, and he is excited but naive. At first, the play is darkly comic as Wiletta tutors John in the unwritten theater code. She lists rules. ("Laugh at everything they say. Do it and stay. Don't do it and get out.") Later Wiletta and fellow actress Millie Davis (Jessica France Duke) compare their theater roles, noting that their characters' names are either flowers or jewels (Rose and Opal.)
Although she yearns to act and will do whatever it takes to keep her job- at first. LaChanze is wonderful at showing how difficult it is for her to toady up to the patronizing officious director, Al Manners (Michael Zegan.) Zegan weakly portrays Manners and it is easy to dislike him because he becomes a character. Ironically, Childress has made him a stereotype by creating a two-dimensional character and Zegan does little to improve the portrayal.
While bullying his white stagehand, Manners proclaims his great affection for his Black performers. All is well as long as they go along with the stereotypes. Yet Manners refuses to acknowledge the falseness in the script in the way Blacks are portrayed. (Is there symbolism in his name?) Although Manners directs Wiletta to think about her character's motivations, when she does and complains how wrong the play is, he loses control.
As she begins to internalize the script, Wiletta demands that her character respond the way a Black mother would react, not the way the white playwright envisions it. She begins to argue with Manners to change the script, jeopardizing her job. As the rehearsals continue (and the play is a pretty bad one at that) Manners directs his performers to over- exaggerate their movements and dialogue. The characters are more caricatures than they are authentic, yet Manners keeps insisting that the play is important because it is dealing with a serious topic.
Wiletta refuses to act a lie. She complains that her character is "sitting, worrying and singing." (Fortunately for the audience LaChanze does get to sing and her voice is thrilling.) LaChanze is strong and tough. Even when she does acquiesce, it is with dignity. She's vibrant and her bright colorful clothing reflects her personality. (Costume design -Emilio Sosa.)
Directed by Charles Randolph-Wright, the play ends with a standoff with Wiletta demanding that the character be true to a Black mother and Manners demanding that the actors, particularly Wiletta, follow his direction. Wiletta refuses to back down. The play closes, leaving the audience wondering what will happen at the next day's rehearsal.
Although the play was written decades ago, its themes still ring true, and one need only look at the recent complaints about the upcoming Academy Award nominations not reflecting diversity. In cases where minority performers have won awards, critics complain that the actors won awards for roles where they portrayed negative stereotypical characters.
The play delivers strong messages about Black stereotypes in the theater but it doesn't tell us anything new. In fact, it just reminds us that too little has changed. What makes "Trouble in Mind" unique is that it demonstrates that even 60 years ago, strong people like Childress wouldn't back down.