Review: 2 Ruby Knockers, 1 Jaded Dick: A Dirk Darrow InvestigationPerformed by Tim Motley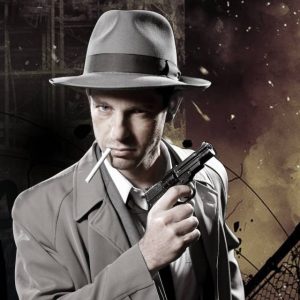 Australian funny man Tim Motley's many talents include working an audience, delivering lightning-fast one-liners in a Humphrey Bogart a la Casablanca sort of way and performing tongue-in-cheek, comically rubbish magic tricks. From the moment he steps onto the bare stage, dressed in his '40s-style hat and trench coat, chain-smoking a fake cigarette, one instantly warms to his presence and charisma.
In his charming 60-minute one-man show, 2 Ruby Knockers, 1 Jaded Dick: A Dirk Darrow Investigation, presented at the United Solo Fest 2015, Motley brings you into his black-and-white cinematic world where he plays the detective and you play whatever role he assigns to you. That is, if you can stop laughing long enough to understand what he's asking you to do.  (I won't begin to spoil the fun of learning what the 'ruby knockers' really are.)
Motley's charm comes in part from the fact that the success of his entire act rests in the laps of the audience. He boldly sticks his neck out in his performances, trusting the audience not to bite his head off. Luckily, his panache helps him to gain the audience's trust quickly. His vocal pacing puts Bogart himself to shame in its smooth, rhythmic and jazz-like tempo.
There were a few technical errors in the show -- lighting and sound cues mixed up, which I could hear were authentic mistakes marked by the techs' whispers, "Oh no! Sorry!!" -- but had I not overheard that, I would have thought it was another funny bit Motley threw into his act. He didn't miss a beat, cracking one-liners in character about the errors. These were so funny that I'm tempted to tell him, "Keep it in the show!"
Motley mentioned at the end of his show that this was his first time in New York City, to which I say, he should not make it his last. He'd be a hit over here, as he was tonight. Leaving the audience in stitches, his humor, wit, and style brought this particular New Yorker back to the elegant era I relate to a New York from decades ago. Tim Motley's character, Dirk Darrow, may be a 'jaded dick' but Tim Motley himself is a truly vibrant entertainer.
The United Solo Festival continues through November 22, 2015.