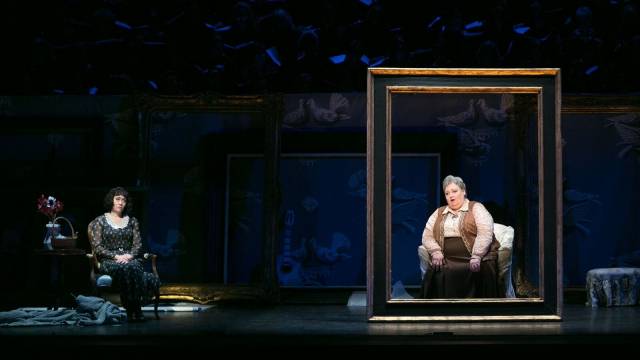 Royce Vavrek, one of the hottest librettists on the contemporary opera/music theater scene today, and Ricky Ian Gordon, a masterful composer and melodic genius, are a powerful duo in their new opera, 27, having a semi-staged production for two nights at New York City Center as part of MasterVoices' 75th anniversary season. Originally commissioned for the Opera Theater of Saint Louis in 2014 and written for mezzo soprano Stephanie Blythe, 27 celebrates Gertrude Stein's devotion to herself as an artist, her support of other writers and artists and her love for her wife, Alice B. Toklas (lyric soprano Heidi Stober in an stunningly expressive performance). With a voice that soars and growls with conviction, Ms. Blythe dominates the stage as the iconic personality, avant-garde writer and art collector Gertrude Stein. Mr. Vavrek and Mr. Gordon's portrait of her is unflinching, revealing Gertrude as a bully in proclaiming who is a genius and who is not and disclosing her protective relationship with the Vichy government that allowed her, a Jew, and her "degenerative" art collection to remain safe in Paris during the Nazi occupation. But 27 also proclaims a proud admiration for Stein's no apologies, 'I am who I am, I say what I want, I love who I love' approach to life.
Riffing on Gertrude's famous quote "It takes a lot of time to be a genius, you have to sit around so much doing nothing, really doing nothing," Mr. Vavrek and Mr. Gordon do a great job of weaving and echoing those words meaningfully throughout the opera. At the beginning of 27 knocking is heard and we are all invited to 27 Rue de Fleurus in Paris, Gertrude Stein's art filled home where the famous Saturday night salons took place; Gertrude held court with men like Pablo Picasso, Henri Matisse, Ernest Hemingway and F. Scott Fitzgerald while Alice entertained their wives in a separate room. Using a male trio of talented singers and quick change artists (tenor Theo Lebow, baritone Tobias Greenhalgh and bass-baritone Daniel Brevik) to play both the famous men and in one catty, chatty scene deliciously costumed to the hilt by James Schuette, those men's wives, Mr. Gordon and Mr. Vavrek give insight into the sway Gertrude had in encouraging geniuses and their desperate need for approval and affirmation. Meanwhile Alice makes small talk with the geniuses' wives "who are not geniuses". 27 spans the two world wars and the "lost generation" (a phrase attributed to Stein), the generation that came of age during or after World War I, is heartbreakingly explored in lyrics like "lost boys/changed to their marrow." In words and musical motifs, 27 reflects the repetition of Gertrude Stein's writings without trivializing her work; instead the persistent use of musicalized words and phrases like "lost," "genius," "ring," "war is war" and "there once lived two women" deepen our understanding of the story.
Ultimately the essence of 27 is the deep love between Alice and Gertrude. Their love duet sung with tenderness and passion by Ms. Blythe and Ms. Stober is an example of Mr. Gordon's melodic brilliance. And Gertrude's final moments in the arms of her wife asking "what is the answer?" evoke the essential existentialism at the core of her writings. Exquisitely crafted musically and lyrically, this moment is also beautifully directed by James Robinson; Ms. Stober remains in an empty embrace as Ms. Blythe is escorted from the stage, allowing us to witness Alice's grief and loss physically and spatially.
The storytelling in 27 was enhanced by the gorgeous clear choral singing of MasterVoices and the musicality of the Orchestra of St. Luke's, both under the strong direction of conductor and MasterVoices Artistic Director Ted Sperling.