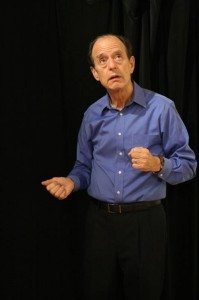 In life, we are taught to prepare for the worst but hope for the best. Never before has this popular adage had more poignancy than in The Actual Dance, written and performed by Samuel A. Simon. Instead of spending his golden years relaxing and celebrating his family, Mr. Simon has been given a new journey: playing the role of caregiver to his wife of over thirty years who is suffering with cancer. With every doctor's appointment, phone call, new diagnosis and surgical procedure, Simon tries to prepare himself for the inevitable day he knows is coming -- when it's finally their turn to dance 'the actual dance.'
Under Kate Holland's direction, Simon presents himself as completely human from the moment he takes the stage. He has a very personal and difficult story to tell, yet he isn't looking for sympathy or pity; he is just trying to express what he has been through. He takes us through every step of the journey, pausing to admit that often times, his sick wife was the one who had to comfort him. Like any other human being in that kind of situation, and probably a good part of the audience, Simon finds that connection point because of his honesty.  He also has a natural, engaging presence on stage and can hold an audience for a hour or so with his expressive skills. Although we were not present at the places that became like second homes to him -- the hospital, doctor's clinics, his synagogue -- the way he describes the people he interacted with and what the setting felt like allows a picture to form in your mind. A very impressive talent.
While Simon is speaking and explaining the metaphor of an orchestra preparing for the 'actual dance' that haunts his mind, live musicians join him on stage to set the scene. The show's music is arranged and composed by music director Eli Zoller, and plays a huge part in the storyline. Echoing the thoughts, fears and emotions of Simon, the music gets closer and louder as time passes, leading towards the grand finale of life. It has the elegance and beauty expected of a waltz, and as his journey progresses, Simon learns that the music he 'hears' may not be a death march, but may in fact represent beauty and love.
Once Simon accepts the journey for what it is, that's the moment when real life begins. I won't give away the ending, but it is the sweetest surprise I've ever encountered in theater, guaranteed to make tears well up in your eyes.
In addition to delivering a terrific performance, Simon gives a brave gift to us all -- the gift of community and strength -- as well as an important resource for anyone who has ever had to care for a sick relative and felt alone. The Actual Dance is proof that life, is indeed, beautiful.