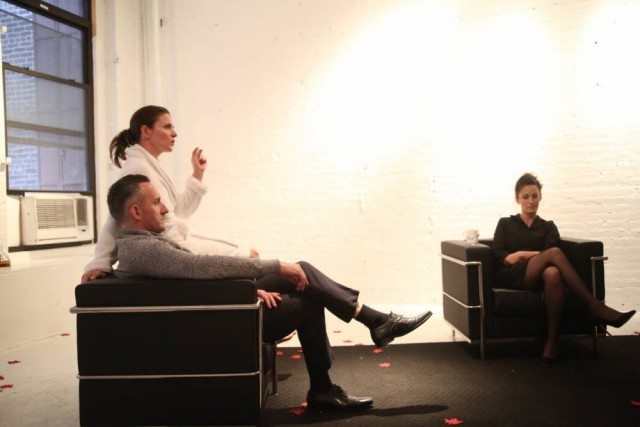 Some might say that Nobel Prize winning London playwright Harold Pinter has a lot to answer for with regard to the shift in modern theater, where class, jeopardy and laden pauses continue to stamp the stage beyond his lifetime. Only he didn't, wouldn't, except to state his position on perceived reality: "There are no hard distinctions between what is real and unreal, what is real and what is false."
Classic Stage Company founder, director, actor, writer and Pulitzer Prize nominee Christopher Martin, no stranger to Pinter's work, has taken him on once again as the director and designer of Old Times at the Alchemical Theatre Laboratory. In a stark white space, where color is limited to splashes of strewn autumnal leaves, two's company, while three is a number that coils around itself, rigid and restrained.
Deeley (Philip O'Gorman) and his wife Kate (Katarina Vizina) are waiting for Anna (Danielle Shimshoni), an old friend of Kate's, at their home in England by the sea. Upon arrival, Anna reminisces about the fun they shared twenty years ago. But all is not well, and the cramped three are intertwined by uncomfortable exchanges and lengthy pauses (for which Pinter plays are famous), stubborn bedfellows to polite society. Between Deeley and Anna there is an alliance of manipulative artfulness, but they are at loggerheads. The increasingly quiet Kate is the accolade they appear to be fighting over, but is Kate something that either one really wants?
Deeley sits like a barrier against his wife on her chair arm but he is not protective. He is testing both women. In a battle of discourse, silence and occasional song lyrics, Kate, still and tense, bears the brunt of dissatisfaction. "We're forcing her to think," says Deeley. Later, when Anna states that "no two women are the same," Deeley's riposte is, "Well that's true enough." At times, when Anna talks of the past, Deeley and Kate look as if they could kill her, and yet their anger isn't unified.
The international cast, Irish (O'Gorman), Slovakian (Vizina) and Israeli (Shimshoni), have had their respective accents successfully neutralized by dialect coach Patricia Fletcher, but it is their otherness that provides a unique take on this English play. O'Gorman as Deeley is commanding and when it is called for, playful with the dialogue. Shimshoni as Anna is both graceful and piercing, while Vizina as Kate inhabits her silences with affecting menace.
In Old Times, words are sharp knives, the glint of which reveal intent in the here and now. Individual memories, true or false, speak to the present tense. Director Martin has kept the production simple and bare. His precision with rhythm and restraint reveal someone who understands that adding too much to Pinter is reductive. There are no unnecessary flourishes here and the play is all the more powerful for it.