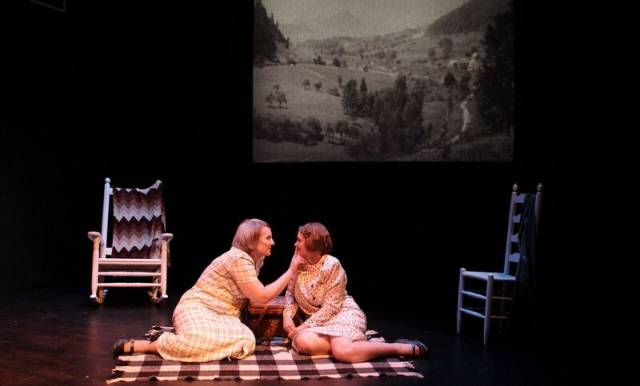 Alice Austen (1866-1952), the fascinating subject of Alice in Black and White currently playing at 59E59 Theaters, was a woman ahead of her time. Born during an era and in a society when there were not many options for women besides becoming a wife and mother, Alice (Jennifer Thalman Kepler) was an unmarried, childless lesbian who lived in her grandfather's house on Staten Island, called Clear Comfort, with her girlfriend Gertrude Tate (Laura Ellis). Not only did she ride bicycles, she repaired them. She played tennis; in fact, she regularly beat men on the court. She was the first woman on Staten Island to own a car. But first and foremost, she was a photographer. Her love for photography stemmed from her desire to document everything, to preserve history in a perfect capsule of time. Alice walked and rode all over Staten Island and Manhattan lugging 50 pounds of equipment taking photos of immigrants and shoe-shine boys when most women of her station would not dare set foot alone on those streets. She also loved taking whimsical and silly photos of her friends, Violet (Megan Adair) and Julia (Ellis), dressed as men or pretending to be drunk.
Lovingly captured in Alice in Black and White by playwright Robin Rice, director Kathi E.B. Ellis and members of the Looking for Lilith Theatre Company, Alice was a true pioneer; a feminist decades before anybody started using that term. She was lucky enough to be born into a wealthy family that afforded her opportunities to travel the world and the luxury to not have to marry a wealthy man. So lucky was she that she was able to live in comfort for decades without the help of anything but her grandfather's stock investments.
Unfortunately, with the market crash of 1929, the Austen family wealth diminished and she was forced to move out of her beloved home and into a poor house. The story has a bittersweet ending in that her work was eventually discovered by a publisher (Joseph Hatfield) and Staten Island Historical Society worker (Trina Fischer). With the publication of her photos and story, she was able to live out the last year of her life in a nursing home. Gertrude stayed by her side until the very end.
Alice's grandfather, John Austen (Ted Lesley), a Transcendentalist who was friends with Emerson and Thoreau, bought Clear Comfort in 1844. Now a museum and historic landmark called the Alice Austen House, it is dedicated to preserving Alice's photographs and the history of that era. Built in 1690, it's the oldest house on Staten Island and the public can visit and see the garden that the Austens so lovingly maintained, and the amazing view of the Narrows, the Statue of Liberty and lower Manhattan from the expansive front lawn. However, most importantly, visitors can see prints of the more than 8,000 photographs that Alice took throughout her life, photos that captured a man's world through a woman's lens.