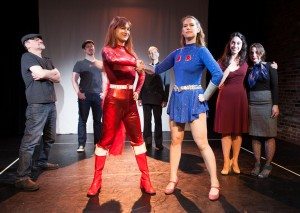 Stop me if you've heard this one: a child psychologist, a female pilot, and a transvestite walk into an all-night automat. No? Clearly, you haven't been spending enough time at the Comic Book Theater Festival. If you're curious about the punchline (emphasis on the the punch), then run, don't walk, to "The Astonishing Adventures of All American Girl and the Scarlet Skunk". Staged as a 1940s radio drama, the action unfolds as narrated by a plucky, fast talking radio host who just wants you to buy Chocolate Fluffo. If the title wasn't enough of an indication, this is far from your average superhero tale.

Charles Battersby, writer, director, actor, and a litany of other things (he also looks great in a very tight, red, jumpsuit so yeah, be jealous), has penned a wise-cracking tale that explores, for starters, gender, identity, and why it seems (and has always seemed) so dang appealing to dress up in a costume and fight crime.

It's a nuanced character study, and some of the best moments are delivered from the "evil" characters: a psychologist, played by Len Rella, who really does, in his own misguided way, care for All American Girl, and "Hyena," played slinkily by Ariella Segal, who likes to tell really foul jokes and eschew sexual conventions.

Overall, in fact, I like that it's a play that is essentially about fantasy, yet deeply roots itself in reality. It's a glimpse into what it really might be like if normal people without superpowers (and who don't have a billion dollars -- I'm lookin' at you, Bruce Wayne) decided that it was up to them to rid their towns of evil. They have costume troubles and unfulfilling day jobs. They get in relationship squabbles in the middle of apprehending a foe.

Now I must say, the play, and really the Comic Book Theater Festival as  whole, comes at a very charged time. Superheroes dominate the big screen, with Captain America, Spider-Man, and X-Men all in theaters within the past month or so, but also, our news is saturated lately with stories of heroism taken a dark turn. Just last week we received chilling news of individuals who murdered innocent people in the name of what they believed to be some sort of vigilante justice. Sound familiar?

And so, I fear that, like many of the characters there within, the play suffers from a bit of an identity crisis, slightly too deep to simply be a parody, but not quite ready to fully flesh out the complicated litany of issues it wants to tackle.

However, I can't place the burden of the day on the shoulders of one, independent play, and ultimately "All American Girl" was staged and acted across the board with a great deal of heart. It's a funny, ambitious show that I would definitely recommend for any wannabe superheroes out there (and come on, I know that's all of you).