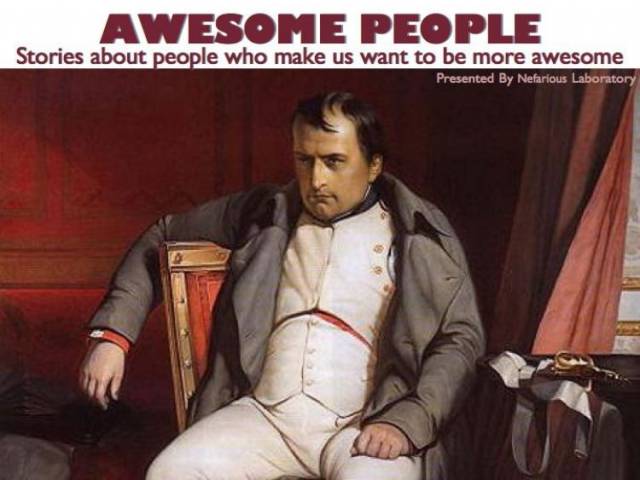 Nefarious Laboratory's Awesome People, part of the 3rd Annual Gotham Storytelling Festival, showcased a multitude of storytelling talent, hosted by Brad Lawrence, a favorite with Moth audiences.
In the teeny black-box theater UNDER St. Marks, four performers told stories about "awesome" people who've inspired them to "be more awesome," to a small intimate crowd. While Lawrence joked that personal storytelling was usually "competitive narcissism", this theme was about shining the light on others.  These special motivational humans that the stories introduced us to could not be more different.
Jim O'Grady, former New York Times reporter and author of Disarmed and Dangerous: The Radical Lives and Times of Daniel and Philip Berrigan, told us about the subject of his book, anti-war hero Phillip Berrigan. O'Grady's soothing voice described his meeting with eccentric child star Sean Astin, whose borderline manic obsession with playing the lead as Berrigan convinced O'Grady to wisely keep his book as strictly a paper medium.
Amy Pascale, the next storyteller and author of Joss Whedon: the Biography, regaled the audience with the story of her punk-rock cousin Sharon in 1988 and Sharon's intense influence on the rest Pascale's life. Pascale's storytelling is intense and emotional and makes you feel as if her story is happening now, and not over 25 years ago.
Cindy Freeman, who runs Nefarious Laboratory with Lawrence, switched up the feel of the evening by talking not about a person she knew, but Napoleon Bonaparte -- specifically, about his time exiled on St. Helena and his unlikely friendship with a 13-year-old girl named Betsy. Freeman is a energetic performer, sprinkling colorful accents and wild gestures among her anecdotes, painting a vivid experience for the audience.
The affable and self-deprecating Jeff Sherman, a performer at the Upright Citizen's Brigade, is an big guy in a leather jacket who told us a story about being bullied as a child and his even larger father standing up for him.
"Awesome People" was a delight to watch. The talented performers combined created a warm environment and told stories about how the smallest actions could influence a whole world.
The Gotham Storytelling Festival continues through November 10 at UNDER St. Marks.  For more information and tickets, visit https://www.horsetrade.info/