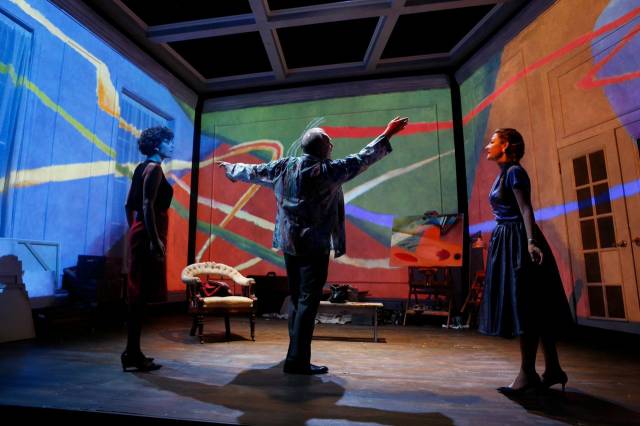 Even for those of us that weaned on the fine arts, Rudolf Bauer is not a household name -- certainly not the household name he expected to become post WWII when he emerged from a German prison and came to America with Solomon R. Guggenheim as his sponsor, his long time lover, Hilla Rebay, orchestrating every move. Bauer was poised to be the focal artist of the new Guggenheim Museum in New York City, built by Frank Lloyd Wright, but everything changed when Guggenheim passed away, and the other family members threw both Hilla and Rudolf to the curb shortly before the museum was to open. Bauer's life's work was packed and stored in the museum's basement until he was rediscovered decades later, long after his death.
Lauren Gunderson's play Bauer, a San Francisco Playhouse production directed by Bill English now at 59E59, takes place one afternoon in 1953, in Bauer's home in NJ, where he lives with his wife, far away from the art world. Hilla Rebay comes to visit after years of detente between herself and Bauer. The purpose of the meeting: To plot their way back into control, and into the art world.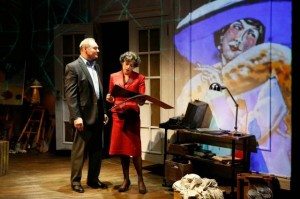 Performances from Susi Damilano, Sherman Howard, and Stacy Ross are excellent all around. The play is charged, and contains a good amount of humor between the bouts of seriousness and conflict. While Gunderson's script has some level of repetitiveness, it remains strong throughout. Special mentions go for the wonderful set design, and animated projections of Rudolf Bauer's abstract paintings, used during various scenes in the play.
Bauer continues its run at 59E59 through October 12. For more information and tickets, click here.