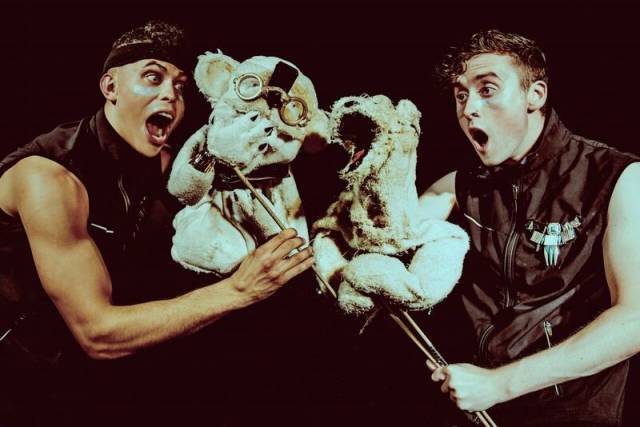 They're furry, they can sing, and they're from outer space. Oh, and they're bears. These are no ordinary bears, though. They have power issues, unrequited love, and a really annoying talking computer with an attitude problem. 59E59 Theaters is the host planet for the arrival of Bears in Space in New York City after sold-out runs in Dublin, Edinburgh, and London with its acclaimed original cast.
This reviewer would like to tag this outrageous cosmonautical experience as "Red Dwarf meets The Goodies" – but for those who are not au fait with the wackier side of British television, let's just call it the highest level of silliness that one can experience in the theater.
The bears are hurtling through space on their ship, the QuickFast, with their female captain, Lazara, still in a cryogenics-induced 700-year nap to halt the progression of a deadly disease. Another crew member awakens from his similar slumber to discover that this situation is an opportune moment for him to realize his ego-driven dreams of becoming a captain. After a song, some projected stencils that hilariously look like your eight-year-old brother put them together for his school project, and some unwarranted quips from the ship's computer, the bears travel through space and land on the planet Metrotopia. There, they encounter a myriad of interesting characters such as Premier Niko, a distrustful leader who is concerned only with his own power, and a stoned, but very cool and hip wise old bear in the jungle who spouts seemingly deep ideas that somehow leave us bent over with laughter.
The all-male cast of four take turns in puppetry and playing actual characters, each showing off their skills as great actors in their own right. Jack Gleeson, Aaron Heffernen, Cameron Macaulay and Eoghan Quinn are all utterly superb, effortlessly providing professionally timed comedic performances. Those who recognize Gleeson from his stint as Joffrey in Game of Thrones will be pleasantly impressed with his performance, having clearly progressed from his days as a homicidal psychopath with mommy issues, to another royal of sorts, but this time one that delivers brilliant punch lines.
Quinn is also the writer of this entertaining piece (directed by Dan Colley), while Heffernen designed the adorable puppets. Macaulay doubles as the show's composer and sound designer, providing live music and yet another fabulous medium of performance in this rich and colorful production. The uncomplicated story serves the production well, highlighting the magnificence of the puppetry and the actors' performances. These alternative Fab Four are clearly in confident control of the show, treating us to polished and thoughtful deliveries, all the while never taking themselves too seriously and allowing the story to flow in all its well-deserved humorous glory.
Bears in Space is an out of this world experience. Grown boys should not be allowed to have this much fun, but you'll be so glad that they do!