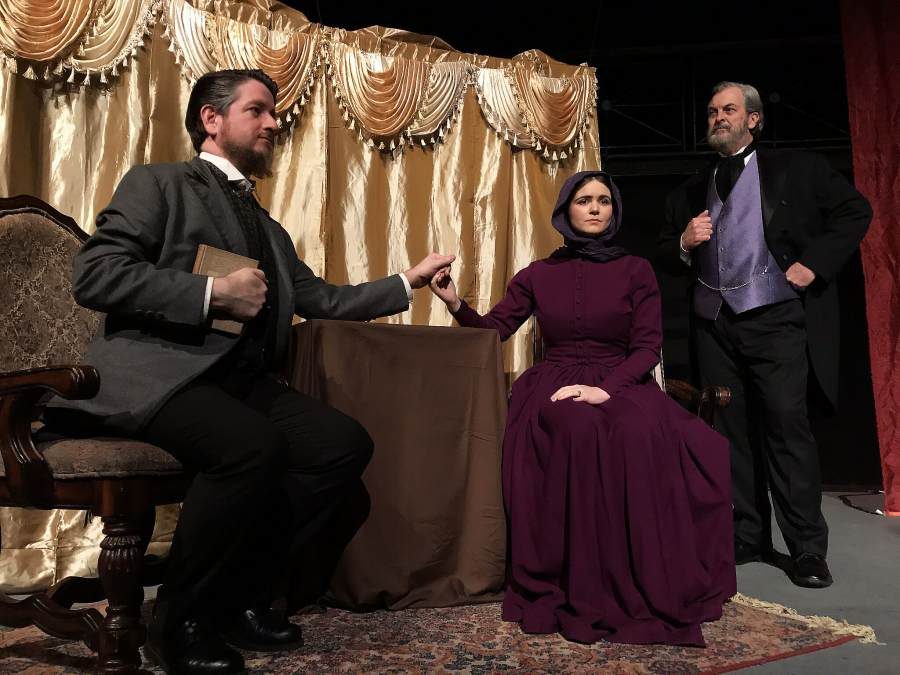 Based on the true story of German business man/archaeological pioneer Heinrich Schliemann, The Man Who Found Troy, now playing at The American Theatre of Actors, relates the captivating adventures of this millionaire who in 1868 began the excavation of the fabled city of Troy.
This thoroughly enjoyable story is cleverly brought to the stage by the talented award-winning playwright Joseph P. Krawczyk. Krawczyk takes the true story one step further by creatively elaborating on Heinrich Schliemann's obsession with Ancient Greek mythology, heightening this aspect by deftly transferring between scenes and characters from Homer's The Iliad back to Schliemann's present time. This is done with great consciousness and dabbles of humor.
Heinrich Schliemann (skillfully played by Johnny Blaze Leavitt) as a man of 47 marries a young 17-year-old Greek girl, Sophia (played by charming and talented Chelsea Clark), and then proceeds to mount his grand excavation project. Although Schliemann's accomplishments can be seen as groundbreaking (no pun intended) he is now generally viewed as an egotistic and power-hungry charlatan, having used dynamite to uncover treasure he had no right or claim to, damaging priceless historical artifacts during the process and misidentifying the archaeological layers. His less than ethical dealings with Frank Calvert (a superb Stephen Goodin), who had actually begun exploratory excavations at the site of Troy seven years before Heinrich Schliemann, are fascinating.
Director Eddie Lew keeps the stage interesting during every moment, ensuring that even during the more informational scenes there is action and movement on the stage, keeping the audience intrigued and never bored. It's always pleasing when directors make wonderful use of a multi-level stage, which Lew certainly does here, utilizing the balcony and staircase and mezzanine level with purpose, good taste, and finesse.
The talented three-actor ensemble were a joy to watch with fully realized characterization, accents, and mannerisms. A standout performance by lead actor Johnny Blaze Leavitt as the impetuous Henry Schliemann was filled with impeccable comic timing and sensitivity. You won't have to dig too deep to find this a thoroughly intriguing and enjoyable play.