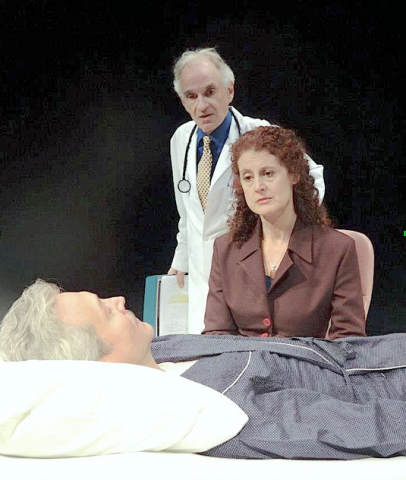 The Art of Medicine in association with The Simon Studio showcased the human side of medicine in a staged reading of Richard Pellegrino's Marginalia at The Players Club. The title itself provides a thought-provoking premise -- that what's written in the margins is often more important than the actual text.
Dr. Tony Baldino (Roger Simon) goes about his routine as a doctor in a hospital, dispensing good and bad news, test results information, and scientific facts. But Dr. Baldino holds his own secret, from his wife no less: he himself is a patient with a grim diagnosis. Pellegrino explores much more than what might typically stem out of such a scenario – more than just a doctor becoming the patient and forced to face the other side of the experience. An epiphany that "hope equals pain" becomes the play's through line, a note that Dr. Baldino had scribbled in the margins of his note paper that was unintentionally seen by a dying patient of his.
The play provides not only the viewpoint of patients and their families, but also the doctor's perspective in such scenarios, conveying that a doctor must remain seemingly emotionally detached in order to keep a steady and clear mind; as one character says, "caring is achieving the best outcome."
Marginalia was developed in The Simon Studio's Lab over the past five years and previously presented in medical centers where it was overwhelmingly well received by medical professionals who benefited from seeing relatable circumstances being played out with thoughtfulness and tact, conveying the importance of doctors listening to the patient's choice, rather than an obligation to fight their illness.
The strong message of "hope equals pain" was well received by the mixed audience of theater goers and those in the medical professional alike. To hope for the best in a dire situation means to put yourself through the pain of what might and might not be.
The talented playwright Pellegrino is in fact a working doctor himself, currently the Chief of Neurology at The Baptist Health Medical Center in Arkansas. Drawing from his own personal experiences, Pellegrino skillfully hatches dialogue and circumstances that are at once both real and surreal, creatively borrowing flavors from Shakespeare's A Midsummer Night's Dream to help carry the audience along with him as his main character converses with the spirit of a comatose patient (played superbly by Michael Siktberg) that plays out as his own subconscious adding wonderful vibrancy, passion and humor to the text.
Incidental jazz music by saxophonist Nick Green provided timely and hauntingly lovely moods that in moments allowed the music to become a character and have its own role and participation in the play.
Marginalia is an important piece of work with learning benefits for medical professionals, and also an entertaining play in its own right.