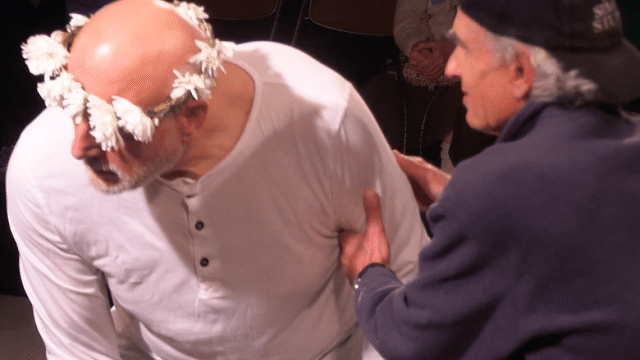 With a 'Hey Nonny Nonny' and a 'Willow, Willow, Willow,' the talented ensemble of the famed Simon Studio provides a performance of the work of the Bard to which all future shows must Measure for Measure. The glorious Dining Hall at the illustrious Players Club in Gramercy Park was transformed into a world of Shakespearean make believe known as "Bard at the Bar" – where the audience is surrounded by kings, noblemen, fair maidens, a shrew, and even a Puck.
The performance is an immersive theatrical experience, just as it might have been presented in the 16th century, complete with songs, music, and highly skilled actors, all paying homage to William Shakespeare. Scenes from a varied selection of his plays segway into one after the other very cleverly, maintaining a good flow and storyline, interspersed with the occasional song or dance.
A veritable bevy of eclectic performers work the room to utilize every nook, cranny, and level. While engaged with one actor at one end, we are treated to the subtle entrance and presence of another character at the other, while yet another actor remains in character in another part of the room barely noticeable until their turn to enter the stage area; a true testament to the commitment and concentration of well-trained actors, most of them playing multiple roles.
Roger Hendricks Simon proves why he is still an in-demand actor with his stealthy portrayal of the Fool to King Lear, who was seductively played by the always captivating Robert S Gregory. Chelsea Clark showed us why she was the deserving recipient of the Studio's John Palmore/Frank DePasquale Scholarship with realistic and understated magnetism. Other stand-outs were William Dean who seems born to play Shakespeare with his uncanny ability to convey both the gravitas and playfulness of the classic text. CJ Gelfand's charm is enticing much to the audience's delight, and Brian Hagerty provides a strong stage presence with a confident performance. Oana Paun and Sonya Rice dazzle with their dual abilities to sing beautifully as well as act, and Dan Simon's Hamlet was suitably filled with angst and power.
As it is impossible to list each actor here with an individual credit, suffice it to say that each and every one of them had an impressive grasp and appreciation of their author's text that allowed them the freedom to trust themselves to provide uninhibited realistic and natural performances, which at times gave way to artistic license resulting in modern-day relatability. Director Roger Simon shows bold and innovative choices adding another interesting layer to the already entertainment-packed show.
After being swept up in the shadows and light of drama, intrigue, murder, and some down-right silliness, the show concludes to gently hand you back to the side of reality, calmly suggesting that we "have but slumber'd here while these visions did appear."