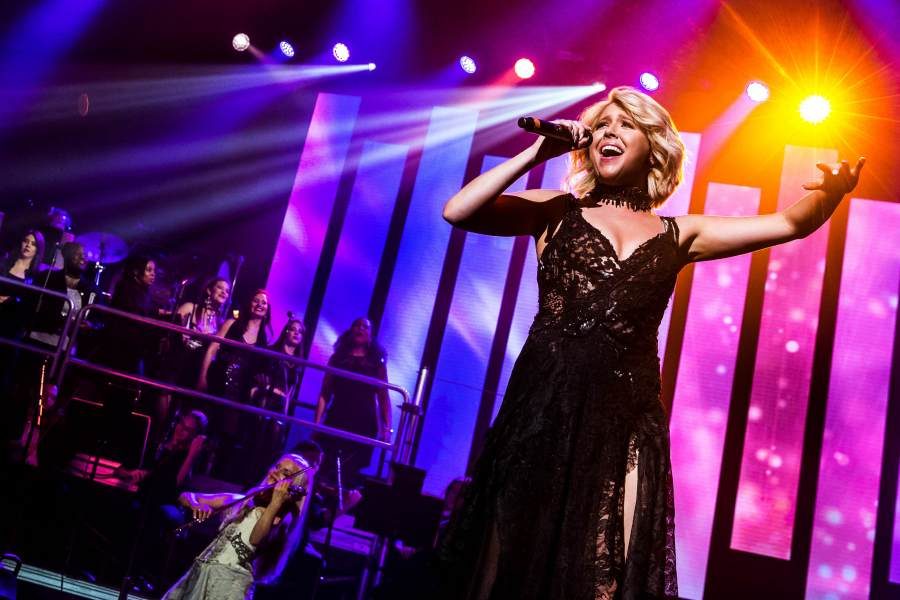 The Broadway show and global phenomenon Rocktopia can best be described as what might happen if Mozart and Beethoven were having a party and Freddie Mercury and Pete Townsend walked in. This musical revolution has spent the last several months touring the world, and is now playing at The Broadway Theater. Pat Monahan of Train is the special guest for the first few weeks of the show's Broadway run; he will be followed by special guest Robin Zander of Cheap Trick.
The show is impressive from the start, with an open-feel stage complete with highly skilled and energetic back-up singers perched on high rafters left and right and a backdrop screen projecting images that complement the music perfectly. Spectacular lighting effects leave you in no doubt that you are experiencing something special and powerful. And the costume theme of black and white is a smart choice by costume designer Cynthia Nordstrom; it works well with fashion designer Mimi Prober's choices, allowing each artist to project a level of uniformity while still retaining their own individual style.
The full cast come together for several pieces, with a particular strong and motivating version of Pink Floyd's "Another Brick in the Wall" showing off not only their voices but also their character portrayal skills. Special mention must be given to what can only be described as a fairy-infused Celtic goddess playing the violin: Mairead Nesbitt shows us why she's been Emmy and Grammy nominated, bringing thumping energy from a classical instrument as talented guitarist Tony Bruno jams by her side. And Tony Vincent shows us why he's deserving of a Broadway stage and is a master of flexibility, donning a dangerous and edgy look with skin tight black jeans and smudgy black eye liner. His dark look did not take away from his stellar and power punching performance that surely brought the back row to their knees – or in Rocktopia's case, jumping up for joy.
With that many egos on one stage it's a credit to co-creator and glorious vocalist Rob Evan to keep any diva behavior at bay, and simply respect the art. Every single artist was mind-blowingly good, but it was Chloe Lowery who won the audience's hearts and gives new meaning to the term "performance" – she not only proves her vocal talents, but knows how to engage and include an entire auditorium.
"Adagio for Strings" was cleverly blended with Queen's "Who Wants to Live Forever," which was lovingly complimented with backdrop images of musical artists we've lost, then segues tastefully into "We Are the Champions" with Tony Vincent reprising his famous The Voice rendition of the song, with images of society's heroes such as Anne Frank, Mother Teresa, Rosa Parks, and Martin Luther King.
As it tours around the globe, Rocktopia concludes the show with images of the town they're playing in. Beautiful backdrops of New York City were projected pulling at the heart strings of the audience, who then couldn't resist jumping to their feet to be a part of "Don't Stop Believing," which was passionately fused together with "Ode to Joy Symphony No.9."
Rocktopia is at once both clever and joyous, both disciplined and radical, and certainly earns its title of Musical Revolution.