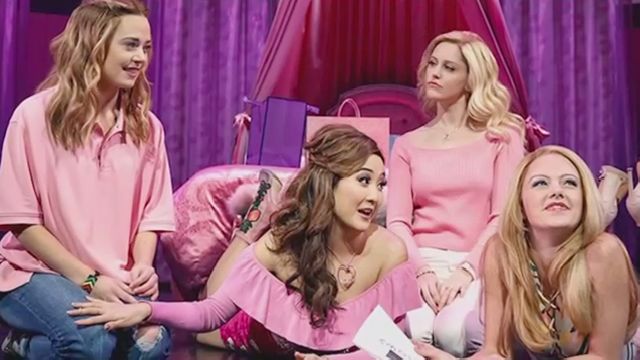 It's time to bust out your spike heels and sharpen your claws because Mean Girls -- the musical adaptation of Tina Fey's hit 2004 film about high school cliques, bullying, and the competitive nature of female friendships -- has arrived on Broadway, and this version will definitely please fans of the original. The dream team joining book writer Fey is composer Jeff Richmond (Fey's husband), Nell Benjamin (lyrics), and director/choreographer Casey Nicholaw.
Mean Girls is an almost line-by-line parallel of the film, with a few updates thanks to the nearly decade and a half that has passed between the two. It's Mean Girls 2.0 -- more texting and hashtags, and more use of words like "woke," "bae" and "cray." It begins with social outcasts Damian Hubbard (Grey Henson) and Janis Sarkisian (Barrett Wilbert Weed) narrating a cautionary tale of their friend, Cady Heron (Erika Hennigson), new to North Shore High School in Chicago after having been homeschooled in Kenya her whole life by her biology researcher parents. Hopelessly clueless about teenage culture, Cady gets a tour of the many cliques and social groups at North Shore High, including a trio of the most popular girls in school called The Plastics (so called because they are "shiny, fake, and hard").
Regina George (Taylor Louderman) is the sociopathic "Queen Bee" of The Plastics, strutting around school completely aware of her beauty and power, and using it to her advantage whenever she can. She is both loved and feared -- kids and adults alike quake in her presence. Her lines are classic: "My name is Regina George," she purrs, "and I am a massive deal." Her sinister song, "Watch the World Burn" is so scorching, you wonder just what happened to this girl to make her such a hateful person. The other two Plastics, Gretchen Wieners (Ashley Park) and Karen Smith (Kate Rockwell), are mostly two-dimensional -- Gretchen has the low self-esteem to be knocked down by Regina, only to get right back up and beg for her approval. Karen is "the stupid one," except when she has random bursts of hilarious insight. In fact, aside from Janis, she is given some of the most feminist-leaning lines in the show.
Janis and Damian encourage Cady to befriend and then spy on The Plastics, and report back to them on every stupid thing they say, you know, for entertainment purposes. You see, Janis has been burned by Regina before and, in her revenge fantasy, Regina is taken down. Cady is her chance at that. Things go well enough until Cady becomes infatuated with the dreamy Aaron Samuels (Kyle Selig), Regina's ex-boyfriend. Then the plot takes a very ugly and vengeful turn.
The ensemble as a whole is excellent, with great dancing and supporting roles that make the principle cast look great. The tap number "Stop" is especially delightful and one of the intro songs ("Where Do You Belong?") makes good use of cafeteria trays that is really fun to watch. Tina Fey's original role of Ms. Norbury, the teacher who encourages the mathematically inclined Cady to join Mathletes, is played by Kerry Butler, who does triple duty as the crunchy granola Mrs. Heron and the desperate, youth-obsessed Mrs. George.
Richmond's music is mostly a pop and classic musical pastiche with some rap thrown in courtesy of the character Kevin Gnapoor (Cheech Manohar), the Mathlete who starts the school talent show with a hilariously inappropriate number by his rap group Kevin G and the Power of Three, which school principal Mr. Duvall (Rick Younger) promptly shuts down.
To achieve the same flow and quick scene changes of the movie, the set is primarily represented by video projections (Finn Ross) and rolling furniture such as desks for the school and large set pieces like beds for the home scenes (Scott Pask). The many costume changes (Gregg Barnes) are impressive and seamless. All this seems an effort to mimic the effect of watching a movie.
In effect, Mean Girls the musical is very much like the movie. I would say, however, that the play has a little more pep in its step owing to the nature of its theatrical medium. Hennigson's Cady is a bit too perky and somewhat dorky, not as natural and uncaring of what other people think as Lindsay Lohan's was in the movie. It's harder to imagine the former taking Regina's place as Queen Bee. It's fine though because, in the end, the story's message about the value of true friendship and self-acceptance is all that really matters.