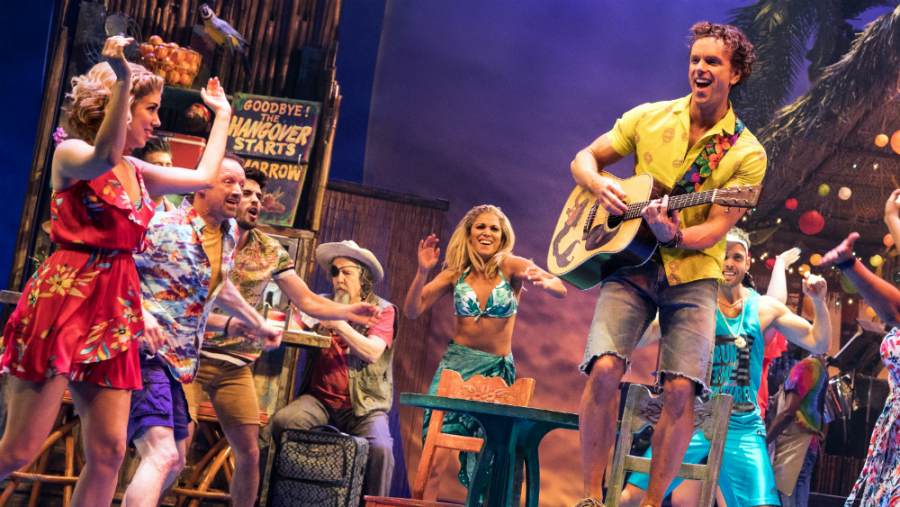 "Breathe in. Breathe out. Move on."
Such is the advice the happy-go-lucky lounge singer Tully Mars (Bright Star's Paul Alexander Nolan), who serenades guests at the titular Margaritaville Hotel and Resort, gives to career-minded environmental scientist tourist Rachel (Matilda's Alison Luff), as she worries about the success of her latest business project, midway through the Jimmy Buffett-inspired Escape to Margaritaville. And perhaps, in looking at some of the more recent notices and commentary, that may be exactly the thought of certain seasoned theatergoers when determining whether or not to attend the show. Indeed, in looking at certain aspects of the show, they would, unfortunately, be correct in their assumption. But please, don't be too quick to dismiss it entirely — the production does have its merits.
Sure, we can agree that the story, while enjoyable, is somewhat predictable. Bachelorette besties Rachel and Tammy (Lisa Howard) travel from Cincinnati to the titular resort to get away and celebrate before the latter friend's impending nuptials. Though intended to be a three-day one-and-done trip, they find themselves entangled, respectively, with the aforementioned Tully and his bartender wingman Brick (Eric Petersen), who change them in ways that leave an impact long after they've left the island. The beach bums, in turn, see their world equally rocked by the level-headed viewpoints of their Cincinnati sweethearts. And then, just to keep with the romcom theme, there's comic relief J.D. (a ROFL and surprisingly moving Don Sparks), a resort regular, who continually makes passes at concierge owner Marley (a knockout Rema Webb) despite her just-as-continual rejection.
Next, there's the subject of incorporating the iconic Buffett catalogue into a new story — the result of which, according to this writer, is mixed. Some songs are woven seamlessly, and quite cleverly at that — "Fins" is delivered as a warning to the vacationing women to watch out for "land sharks" who might swoop in and sweep them off their feet, Marley ignites a gossip train via the "Coconut Telegraph," and "My Head Hurts, My Feet Stink, and I Don't Love Jesus," is hilariously repurposed as a response to the effects of guests heavy drinking and partying the night prior. Others, particularly toward the end of the production, feel gratuitous and even redundant at points — enjoyable songs on their own, yes, but in this instance, not necessarily serving the plot as well as they could be. As a result, the story's resolution feels rushed, thrown together for the sake of showcasing an array of classic Buffett fare, most of which whose lyrics might not be as easily recognized by anyone other than the diehard Parrotheads.
But then, the good news: regardless of obvious issues with plot or with songs, there's no question the cast delivering them is unequivocally top-notch. As "benevolent beach bum" Tully, Nolan pulls off a delightful mix of charm and goofiness — not to mention, he's a natural with the guitar, playing 16 of the 21 numbers live during the show. Luff is equally thrilling as the lost-in-love Rachel, her sweet dulcet tones putting a refreshing spin on the Buffett classics. Petersen is consistently on his comic game throughout, especially dazzling in a shining Act II moment involving a kickline of deceased insurance salespeople (don't ask...just see it for yourself!), and Howard, in a golden-voiced league of her own, once again cements her status as Broadway's perennial secret weapon, soaring to new heights in her delivery of (yet another) 11 o'clock number for the ages.
Most intriguing of all is the creative manner in which the show displays its overarching escapism theme. With its mindless rom-com storyline and the relaxed island vibe emanating from the stage, the escapism idea is pretty much in there from the get-go. But the folks at Escape to Margaritaville don't stop there, further outfitting ushers in Hawaiian shirts and other vacation attire, having bartenders roam the aisles in the pre-show to hand-deliver beer and margaritas (the latter Jimmy Buffett's official recipe!) to patrons in their seats, and, of course, encouraging guilt-free audience participation in the more high-octane musical numbers. Coupled with the squawking seagulls, the crashing waves, and the soothing sound of the native steel drums, this practice does much to immerse one in the experience and allow the audience to embrace the island mindset.
And yet, it still doesn't end there. In that the characters are all plagued by expectations to be someone other than who they are, the show addresses escapism quite literally within the show, with characters running away to distance themselves from said outcomes, which then becomes the crux of the whole story, the nucleus from which all future decisions and resolutions are made. Messages like "treasure is in the eye of the beholder," "always live in the now" and the ever-important clincher, "You can't let fear get between you and your dreams" force audience members to re-examine how they go about their daily lives, and what things they really consider as "important," just as much as it does the show's characters. In that vein, they too, ultimately come to the decision to cast away their fears, eat that cheeseburger in paradise, and get drunk and screw (all metaphorically, of course). It's a brilliant way to craft a show, and dig deeper in the "escapism" theme, turning it on its head. If the literal lyrics and flow between numbers don't always naturally land, the overall message definitely does.
In short, the show, overall, might be a tailor-made love letter to the Parrotheads, indulging in too many Buffett staples than a classic Broadway devotee like this writer can handle. But though it may not hit the mark as cleanly as Broadway fans might expect it to, all involved can rest easy knowing it touts its title effectively — exuding pure escapism, and genuine campy camp for camp's sake. And though you may not initially align yourself with such a specific energy, much like Rachel and Tammy discover throughout the course of their island excursion, you, too, may actually find that it's exactly what you need.