Review: The Marriage of Alice B. Toklas by Gertrude Stein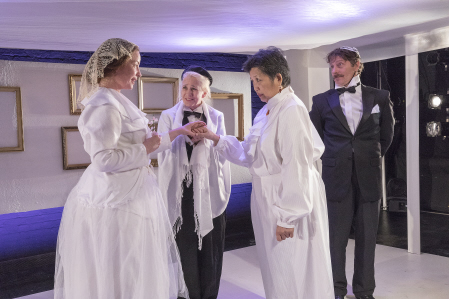 A marriage that should have been. Or, for all intents and purposes, actually already was. But for that matter, was not, but then did so happen anyway in a way that was not marriage but could have been.
Please forgive this writer's poor attempt at an imitation of Gertrude Stein, but her style is utterly infectious -- although I readily admit that this sort of pastiche is best left to good playwright's like Edward Einhorn, who captures Stein's style with brilliant elegance in his new production The Marriage of Alice B Toklas by Gertrude Stein, now playing at HERE theater.
The highly skilled actors commit passionately to the 40-year love story between Alice B. Toklas and Gertrude Stein, performed in the spirit of a true French farce, complete with flying hats to make for quick costume changes. In reality, Toklas will forever bear the title of "life partner" to Stein, without ever having the satisfaction of having being able to legally wed: The American-born members of the Parisian avant-garde of the early 20th century were not afforded that basic right. Yet this play brings us all the satisfaction of an actual wedding ceremony for the two ladies, complete with in-depth discussions about genius, art, and love.
In addition to his own Stein-ian creations, Einhorn incorporates actual Stein quotes such as "It takes a lot of time to be a genius, you have to sit around so much doing nothing, really doing nothing" into this utterly riveting show. There is an eloquence forcing its way through the shiny surface of quick witticisms and wordy observations that brings meaning and gravitas to the play.
It is impossible to single out any one performer as being more impressive than the other, as this was truly an ensemble cast of equally high level acting and comical timing. Mia Katigbak as Gertrude Stein gives stone-faced nuance to her character that somehow touches the back row of the auditorium with a multitude of levels. Alyssa Simon as Alice B. Toklas brings amusing facial tics and warmth to the forefront of her character, who in life was often placed in the background. The multi-talented Jan Leslie Harding is unstoppable as Pablo Picasso (and other characters) with her quick character changes and high energy comic timing making her an engaging actress to watch. Grant Neale provides a truthful Ernest Hemingway (plus other characters), understanding the complexities of this famous author and friend of the brides-to-be.
Underlying the farcical, high-paced, cartoon-esque moments lie truth and depth, poignantly and subtly lingering as smoke. Thoroughly enjoyable from start to finish, this love story that was, the marriage that should have been, is the play you must see.