Review: A Beautiful Day in November on the Banks of the Greatest of the Great Lakes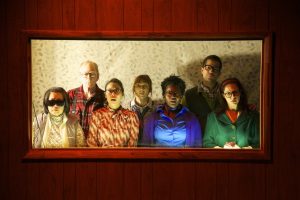 "A Beautiful Day in November on the Banks of the Greatest of the Great Lakes", a new play at Dixon Place, is a story about a family dinner that's as familiar as Mom's legendary Thanksgiving gravy but with a dash of surprising twists thrown in for good measure.
The production, one of the Jam on Toast festival plays put on by New Georges, a theater company that "advances plays of exuberant or irreverent in nature," according to themselves, has both in spades. Writer Kate Benson's characters, especially three sisters named Cheesecake (Brooke Ishibashi), Trifle (Nina Hellman) and Cherry Pie (Heather Alicia Simms), all shine on stage with hilarious, effervescent facial expressions and pointed dialogue.
The show opens with two sports casters (Dennis A. Allen II, Mike Iveson) sitting high above the sparse stage, introducing the audience to the Wembley sisters scuttling around a basketball court covered in various taped up lines and circles.  This is their living room. Their home court. The championship game is Thanksgiving dinner. The goal is to get through it without burning the turkey, offending "Republican's Wife," or letting Gumbo, Cheesecake's "wild card" daughter, ruin anything with her butterfingers.
While the Wembley family, much like everyone's, can call up a painful memory with a single word or cut each other down with a passive-aggressive "Are you sure you're doing that right?" the audience gets a clear and amusing explanation complete with history and commentary from the thorough all-seeing narrators.
As the family members pour in (Jessica Almasy, Christian Felix, Nina Hellman, Mia Katigbak Christine Lee, Kristine Haruna, LeeEvan Thompson) and chaos ensues, true colors start peeking out from behind the carefully painted smiles and as expected, things don't necessarily go as perfectionist, type-A, little sis Cheesecake has planned.
Lee Sunday Evans' directing is spot on, the talented actors create a entire busy living room, kitchen and dining room with no props or sets. Each character flows in and out of scenes in a carefully coordinated dance, sparring with overly critical blind matriarchs, deadpan patriarchs and the occasional loose dog.
The dysfunctional Wembley family, with their self-serving game plans and lack of good teamwork, still convey the heart, pain and awkwardness of family holidays concluding with a shocking but winning ending.