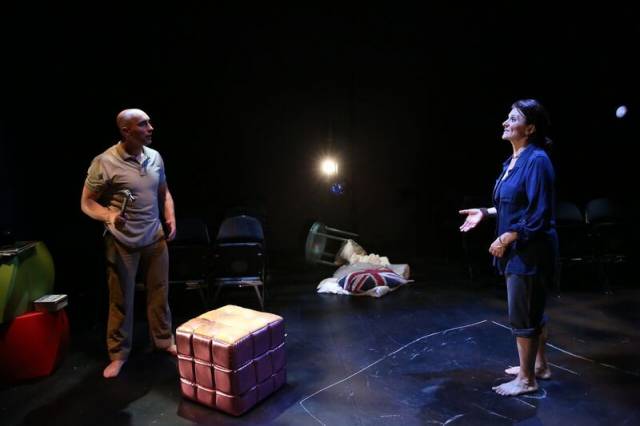 Daphne du Maurier's 1952 novella The Birds put a petrified chill to an atmosphere that was enhanced by Hitchcock's film adaptation 11 years later. Conor McPherson's 2009 stage adaptation concentrates less on the plot-driven grisliness of the novella and the film and instead focuses on human isolation and the paranoia that is present among dwindling numbers.
In Toronto-based Birdland Theatre's production of McPherson's play, directed by Stefan Dzeparoski and participating in Origin's 1st Irish theater festival at 59E59 Theaters, the drama occurs in the narrow spaces amid an audience dissected into four parts. The staging is hell-bent on claustrophobia and assisted in the main by visual and audio effects.
Bloodthirsty birds continue to attack what is left of the human race. Diane (Antoinette LaVecchia), a writer and survivor, has taken shelter in an abandoned house. We know this because she chalks a box on the ground and inside it writes 'house'. Diane occasionally narrates the unseen action into a microphone in radio broadcast style following "the last broadcast we ever heard". An unhinged gentleman called Nat (Tony Naumovski) shares this same house. We know that he's a few layers short of sanity because he's naked and restless in the telling of how his ex-partner put him in a mental hospital. They are soon joined by Julia (Mia Hutchinson-Shaw), a sweet young thing who turns peckish and artful with her talons, but resentment isn't the only thing that Julia breeds.
The farmer from across the lake (also played by Naumovski), shrouded in the foggy unknown, arrives with his head in a cage and a shotgun. "Welcome to reality, where anything is possible," he says, before inviting Diane to drink with him. She declines his invitation, but given that she is slipping off the nest that is her only home, accompanying her neighbor around a potentially lethal flock-filled lake might not be the worst idea.
At intervals, Naumovski as Nat shouts at a volume that seems like the perfect weapon for scaring away the birdies, but in the modest space of this particular 59E59 theater, the average eardrum is the thing at risk. Sound designer Ien Denio's chirruping sound loop warns of what lies beyond while David J. Palmer's video design gives us The Birds in the chaos of TV white noise. Some of the effects are distracting, as in when half the audience (depending on which side of the theater they are sitting) have to strain their necks to see something as underwhelming as a projected tree, just because Julia thinks that it looks like broccoli. The actors are at their best in the celebratory or confrontational scenes where the effects are absent or minimal. McPherson is a master of his craft and with this play, the able-bodied text dictates simplicity. This is a flawed production that nevertheless possesses moments of genuinely affecting suspense.