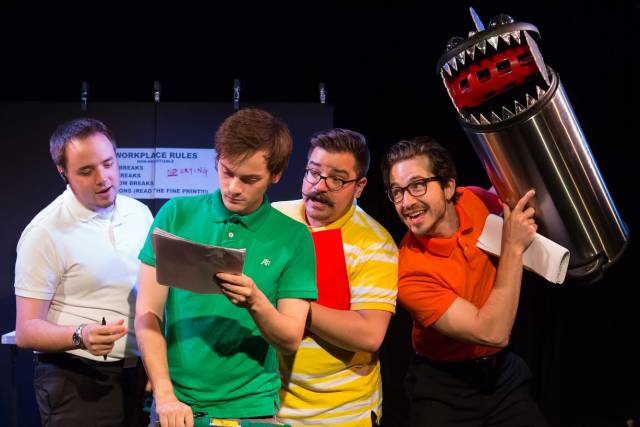 Beautiful voices, catchy little tunes and lots of sweet science geekiness abound in Black Hole Wedding by Katherine Brann Fredericks and Paul Edward Nelson. This big, fun ambitious musical comedy has everything from a black hole trash compactor to the kidnapping of John Wayne to a world-domination-hungry boss who has a whole song about how much he loves the game of golf. Sound far-reaching? Oh, it is. In the most charming way.
Black Hole Wedding is a nearly two hour comedy musical about a young genius engineer, Raymond (Aaron Riesebeck), who is more or less kidnapped by a greedy oil monger and keeper of renewable energy inventions, Mr. Dean (Ravi Roth). In the kerfuffle of Dean's archetypical world domination excesses, there is a litany of funny and well fleshed out characters dipping in and out of the story, as well as that dream invention mentioned before: a trash compactor that is actually a black hole, which could end world pollution as we know it.
Just typing that last line makes me smile, as did the entire, sometimes a tiny bit too convoluted musical. In fact, even when I didn't understand what in the world was going on onstage (nothing a little scrubbing of the script/music won't fix) I still smiled at the sheer cuteness of each character and situation.
The cast is incredibly strong individually. Aaron Riesebeck as Raymond, the heartthrob/nerdy engineer, gave a totally heart-warming performance. Hadley Cronk as Summer, the in-office massage therapist and love interest, is a truly lovely performer with a sparkling voice. Mr. Dean was brought to life with the perfect blend of endearment and smarminess by Ravi Roth, who has a twinkle in his eye and a glimmering voice. Ashanti J'Aria, as Calista, has a brilliant hold of comedic timing and sensibility that kept the audience wanting more of her.  But what really keeps this show rolling is their commitment to each other. Their excellent work as an ensemble allows the audience to relax and have fun.
While there are many songs -- well written, I will add -- that do not further the plot (and therefore should be cut), a lot of greatness comes out in this piece of musical theatre. The topic is deeply relevant and far-reaching and its humor and charm is just as fresh. Just a tiny bit of tender-loving tweaking could make this a truly brilliant, scientifically sweet theatrical invention.