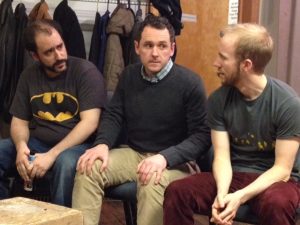 While leaving last night's performance of "Why Bother?" at the Paradise Factory, a friend (and theater neophyte), remarked, "It was very funny. But it wasn't a comedy." And that is very succinctly the heart of the four-story play directed by Andrew Block.
Throughout the production, we meet two actor friends competing for the better life and better run time, a flamboyant gay New Yorker and his neurotic, self-obsessed therapist who form a dysfunctional relationship, a blue-collar Boston boy who visits his sister at her esoteric theater debut and three friends who have to answer the question "Just how far will you go to help a friend?"
The twenty minute stories ("Keeping Pace", "Crazy At Heart", "Illuminati" and "Doll Play") touch on extremely relatable experiences, such as trying to find love when all you see are couples or realizing the person you grew up with is no longer who you thought they were. But the clever writing eases the audience into it. You're distracted by the sharp, sarcastic dialogue. You don't notice until the laughter quiets just how empathetic to the characters' grief and insecurity you are feeling.
Each story contains so much heart and personality that the actors convey just the right amount of it while only rarely crossing the line into overly-dramatic. The scenes are sparse but just enough for the actors to use what they need. The treadmills in the first show are imaginary but the strap-on in the third is very real. However, the writing and directing creates vivid situations that the actors portray adeptly.
The plays (written by Robin Rothstein, Mark Jason Williams, John Pollono, and Tony Glazer) are performed in an intimate black box theater (intimate enough for Kathy Searle's therapist character to offer MnM's to the audience). The 80-minute production will not leaving you wondering Why you Bothered to come.
The Planet Connections Theatre Festivity is going until June 8th at The Paradise Factory, 64 East 4th Street.  "Why Bother" is playing until June 1st.