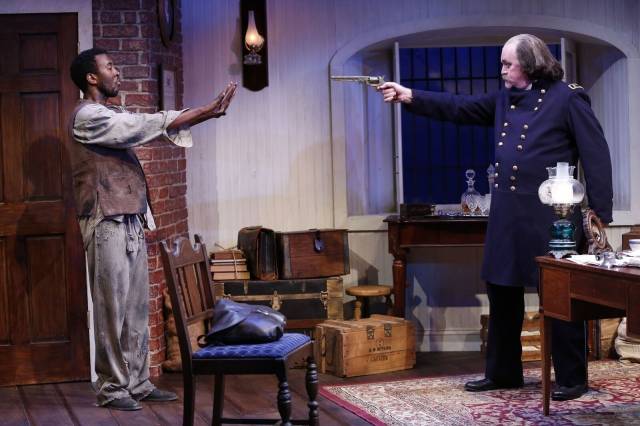 Richard Strand's Butler, making its New York debut with the New Jersey Repertory Company at 59E59 Theaters, is, we are told, based on real events.  Elegantly directed by Joseph Discher, the well-written play takes place within the first year of the American Civil War.
Lawyer turned Major General, Benjamin Butler (Ames Adamson) is in command of Fort Monroe in Virginia, which has seceded from the Union the night before.  When Lieutenant Kelly (Benjamin Sterling) arrives at Butler's rather homely office to inform him of the arrival of three runaway slaves, a drama unfolds that tackles history, race and liberty.  One of the slaves, Shepard Mallory (John G. Williams), wishes to gain sanctuary in return for useful, expert military service.  The law states that slaves must be returned to their rightful owner, but to do such a thing would put an undeniable end to Mallory.
Butler's initial discontent and faultfinding tendencies have their own rationale that balances between his qualified penchant for coherence and a very short temper.  Adamson plays Butler as large as he can be and his transitioning from rage to compunction and back again is a joy to watch.  Butler may possess a fiery temperament, but when the dust of his discontent settles, his shrewd legal mind is capable of applying reason as well as cunning.
When he inquires of Mallory, "Are all Negroes like you?" and then moments later confesses, "I don't talk to very many Negroes," it is with innocence, not ignorance, and curiosity, not disdain.  It is Butler's tone at this point of the play, where his potential for lenity is made apparent.
The long-suffering Lieutenant Kelly is the straight man in the Kelly/Butler double-act.  At the behest of his position and military obedience, his responses, often exasperation, must nevertheless be restrained.  The results are very funny, and as a mutual respect between the two men blossoms and develops, also touching.  It is Kelly whose general attitude alters the most upon the arc of the story and Sterling portrays him with good humor and sensitivity.
Shepard Mallory, assisted by Williams' bold and lively portrayal, is similarly contrary and sporadically aggressive, but the good sense of his plea contains a tempting compromise.
Major Carey (David Sitler), who arrives to reclaim the three slaves, is outraged by having to be led onto the fort in a blindfold, an act inspired by Mallory's advice.  Sitler physically inhabits the role to a degree that casts him in sepia within a Civil War museum cabinet.
Playwright Strand's decision to put emphasis on comedy may have been risky, but Butler loses none of its pathos in revelry.