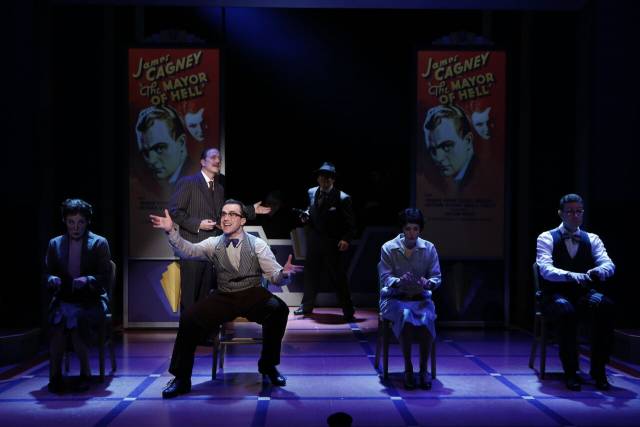 Prepare to be dazzled by some extraordinary tap dancing when you go see Cagney, the new Off Broadway musical playing at the Westside Theater.  Director Bill Castellino, choreographer Joshua Bergasse, superstar Robert Creighton (James Cagney), and a triple-threat ensemble of five who play a multitude of parts create a fast-paced, sleek look at the life of the iconic American movie star and song and dance man.
Theatrically retelling the life story of a famous person always presents challenges; what do you put in and what do leave out?  Book writer Peter Colley wisely focuses a good portion of the musical's two hours and 15 minutes on Cagney's stormy relationship with Warner Brothers and studio boss Jack Warner, providing situations for conflict and comedy.  Mr. Colley also fractures time throughout the show, weaving a meeting backstage between Cagney and Warner at an awards ceremony in the 1970s in between a linear story of Cagney's prolific career achievements, artistic struggles and run-ins with the government over his support for liberal causes and the emerging labor movement (Cagney was deeply involved in the development of the Screen Actors Guild).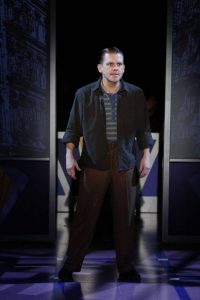 This original musical contains some beloved George M. Cohan classics like "You're a Grand Old Flag", "Give My Regards to Broadway" and of course, "Yankee Doodle Dandy" along with new material written by Christopher McGovern and Mr. Creighton.  For the most part, the new songs hold their own against Mr. Cohan's, especially "Warner at Work" and its counterpart "Cagney at Work", delightfully choreographed by Mr. Bergasse with tapping feet serving as typewriters, and Mr. Creighton's searching song "How Will I Be Remembered?"  Mr. Castellino contributes to the storytelling with strong visual staging.  Opening Act II with the precisely choreographed "Black and White", where Cagney defends himself as he is accused of being a communist by the US government, and then barreling into the show-stopping "USO Medley" for the World War II troops gave the second half a jolt of infectious energy that had people clapping along.  Along with the efforts of Mr. Bergasse, scenic designer James Morgan and costume designer Martha Bromelmeier, Mr. Castellino's direction gives us tinges of a bygone era, the Golden Age of Hollywood.
Dancing and singing their hearts out, this hardworking cast zip in and out of costume changes, creating numerous characters with relish.  Ellen Zolezzi is darling as Cagney's devoted wife Willie, while Danette Holden portrays Ma Cagney with Irish warmth and is deliciously ditzy as Jane, Jack Warner's secretary.  Veteran actor Bruce Sabath, sporting a thin mustache, nails the role of Jack Warner, giving a performance filled with megalomaniac gusto.  As a host of other characters, including Bob Hope, Jeremy Benton throws it down in his tap dance dueling duet with Mr. Creighton, and Josh Walden, who leaps into the air as if he's wearing little trampolines on his feet, sizzles in his dance solos and brings honesty and dimension to the role of Cagney's brother Bill.  And then there is the incredible Mr. Creighton giving an electrifying performance.  With feet flying and a beautiful light Irish tenor voice Mr. Creighton captures the pugnacious spirit and openheartedness of the little tough guy, James Cagney, endearing himself to the audience with his explosive energy and mega talent.  Cagney is not to be missed and you will be humming those songs as you leave the theater!